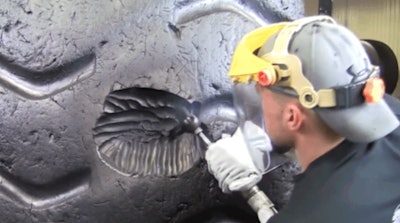 Recently, we saw the explosive results of over-inflating an earthmover tire. But what happens when the damage to one of these giant tires is a bit less devastating? That's where German company Rema Tip Top comes in.
According to the YouTube description for the video below, put together by Extreme Machines Magazine, Rema Tip Top was founded in 1923 and manufactures the equipment and materials needed to make repairs to earthmover tires. In the video, a technician makes repairs to a $30,000 tire.
The video illustrates just how complicated and lengthy this process is, requiring the technician to shave away a quite a bit of rubber around the the problem area before patching and trimming, patching and trimming, etc. It's pretty fascinating.