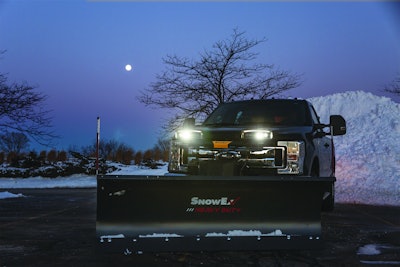 SnowEx has developed new headlights as an available option for its truck plows that are designed to provide wider, fuller light patterns for a longer distance.
The company says the Storm Seeker LED Headlamps "simulate daylight" and "produce up to twice the light output of halogen bulbs to increase safety and productivity while plowing."
The headlamps feature the company's EdgeView, which directs light through the outer edges, giving 180-degree light visibility from plow edge to plow edge, SnowEx says.
The lights also prevent snow and ice buildup with a heating system that automatically heats the lenses when needed. The lenses slope forward and have no bezel to further prevent ice buildup.
The headlights are compliant with Federal Motor Vehicle Safety Standard 108 and are designed to be less prone to shock and vibration when plowing. Their housings are sealed and waterproof.