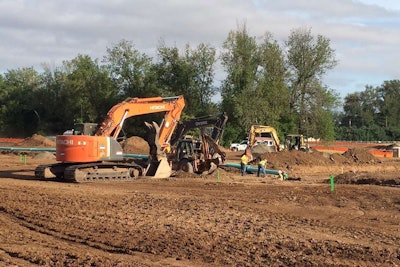 Following two months of declines, the U.S. homebuilding market rebounded and then some in September due to a surge in apartment starts.
Home starts rose 6.5 percent during the month to a seasonally adjusted average of 1.206 million, according to preliminary data from the Commerce Department. That total is up 17.5 percent over the same time last year.
The new data also revised the August rate upward, from the previously reported 1.126 million to 1.132 million.
Fueling the gains, apartment construction rose 17 percent during the month to a rate of 454,000. That segment is now up 29 percent over the same period last year. Single family starts rose too, but only slightly with an 0.3 percent gain to 740,000. That total is up 12 percent year over year.
Building permits, a good barometer of how the homebuilding industry is trending, fell during September by 5 percent to 1.103 million. Permits are up 5 percent above the September 2014 figure.
Builder confidence in the market continues its steady increase as well, reaching what the National Association of Home Builders is calling a housing-boom-level high after give straight months of increases.
October's NAHB/Wells Fargo builder sentiment index rose three points to a 64. Any reading above a 50 indicates most home builders believe market conditions are good.
"The fact that builder confidence has held in the 60s since June is proof that the single-family housing market is making lasting gains as more serious buyers come forward," said NAHB Chairman Tom Woods in a statement. "However, our members continue to tell us there are still pockets of softness in some markets across the nation, and that they face challenges regarding the availability of lots and labor."
"This upward momentum shows that our industry is strengthening at a gradual but consistent pace," added NAHB Chief Economist David Crowe. "With firm job creation, economic growth and the release of pent-up demand, we expect housing to keep moving forward as we start to close out 2015."