In what is sure to be a project to remember for the crews putting it together, construction has begun in Dubai on the world's very first underwater hotel.
With a design that resembles the USS Enterprise from 'Star Trek' and a function akin to 'Sealab 2020,' the Water Discus Hotel will bring whole new meaning to sleeping with the fishes.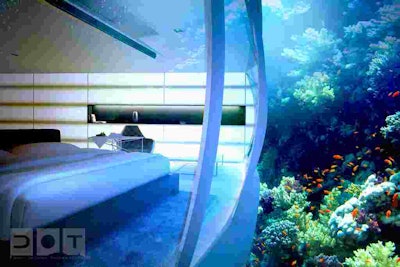 The innovative design consists of several discs, one of which is submergible down to 33 feet, in order to allow guests to enjoy the ocean's beauty from both the above- and below-surface perspectives according to Al Bawaba. The 11,000 square-foot underwater disc will house 21 rooms.
The company behind the project is Polish company Deep Ocean Technology who is hoping the hotel is only the first of many such projects with the goal of building "coastal dream cities" with no environmental impact.
DOT says its top priority with the new hotel is safety, noting that both the design and construction of the complex are being supervised by an "international classification organisation with experience in the field of building and operation of boats, ships, offshore structures and professional diving systems."
The structure will sit atop five legs anchored to the seabed with the upper disc suspended above the water. DOT says the design keeps the hotel safe even "in the event of a fairly high tsunami." The underwater disc can be raised above the surface and the complex does so automatically in the event of a storm or other danger.
What's extremely cool about the hotel is its underwater dive center which gives guests immediate access to the sea floor through an airlock.
A completion date for the hotel has not been set.