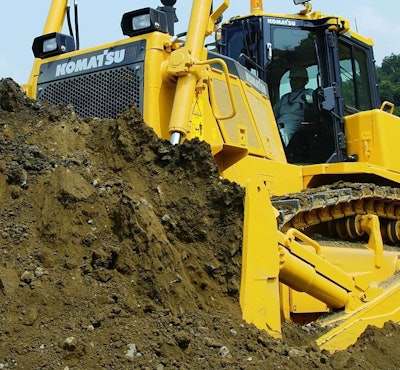 After feeling the brunt force of the economic downturn, two manufacturers of crawler dozers with 210 horsepower and up say the market is on the path to recovery. In fact, Jon Gilbeck, crawler dozer global product marketing manager for John Deere calls this market class "very positive."
"As the overall construction equipment industry has been going through the recovery process, dozer sales have grown as well," Gilbeck told Equipment World. "Sales in 2011 were significantly higher than 2010, and 2012 year-to-date sales are forecasted to exceed 2011."
"Costs associated to the undercarriage can be as high as 50 percent of the total maintenance cost."
Robert Klima, Liebherr's product manager for crawler tractors, says though the market for this class of crawler dozer was heavily affected by the downturn – in 2009 the total market volume was cut back to less than half of its 2008 size – a stabilization is on the horizon.
"The larger dozers were affected, but not nearly as much (as smaller class sizes.) I think this situation occurred due to the smaller dozers performing pad work for housing," Klima said. "The larger dozers were also doing this work, however, they were also working on larger projects where the smaller dozers simply can't perform efficiently."
"All major manufacturers of dozers introduced more efficient hydrostatic driven machines in the past years or – if they had this already – increased the usage of hydrostats."
Helping matters is what Klima called a "diverse" market for crawler dozers sized 210 horsepower and greater. These machines are used in general applications such as earthmoving but also special applications such as landfill or stockpiling materials like coal or wood chips. There's also heavy use in mining applications.
Factoring life span
The life span of a crawler dozer in this size category depends heavily on two factors: the owner and the undercarriage.
Dave Cusac, Caterpillar's track-type tractor product application specialist, says Cat dozer's frame life allow three powertrain rebuilds. Similarly, Komatsu's crawler dozer product manager Bruce Boebel says these dozers "can enjoy a long life, typically many times longer than dozers below 210 horsepower and can be rebuilt to near-new condition several times."
But dozer life in this size range typically depends heavily on how much life the owner wants out of it. John Deere's Kilbeck says some of customers operate their crawler until 10,000 hours before rebuilding it, while others sell them after a certain hour level and buy new. Liebherr's Klima recommends remanufacturing the drive train and its components after 15,000 hours of operation.
"This will then guarantee a reliable usage of the machine for the next 15,000 hours when the next remanufacturing of the drive train is due," Klima says. "However, there are customers who go different routes. They run a machine until something breaks and then it gets repaired. If a customer decides to go that route, it is common to see 25,000 to 30,000 hours on the main drive train components before they fail."
But each manufacturer agrees if you want to get the maximum amount of performance and life out of your crawler dozer, you're going to want to make sure you select the right undercarriage. Obviously the wrong undercarriage will negatively affect performance, but Klima says the right one will keep maintenance costs low.
"Costs associated to the undercarriage can be as high as 50 percent of the total maintenance cost," Klima says. "The general rule is to go (with) as narrow (a track) as possible. This will reduce the load on the undercarriage and by it, the wear."
However, if you're going to be working in poor or soft conditions such as soft clays and sandy soils, you're going to need as much flotation as you can get, and that's when you should go with a Low Ground Pressure (LGP) machine, Cusac says.
"Many customers have told me that there are only two kinds of soil left, rock and slop, and that all the good soils have already been developed," Cusac says. He notes that extra-wide track LGP machines also perform better in applications where side slope stability is needed.
But if you wind up on the "rock" side of Cusac's "rock and slop" characterization, long track machines with a thick, narrow width shoe perform best, says Bruce Boebel, Komatsu product manager for crawler dozers. If your application requires work in shot rock, for example, you should go with a thick narrow width shoe. "A wider shoe would be more susceptible to flexing and damage in this type of a harsh application," Boebel says.
Advancements
Tier 4 engines and technology that enhances the operation and maintenance of these machines are the two main ways in which crawler dozers over 210 horsepower have advanced in recent years "The new D155AX-7 dozer, for example, provides the same power as the Tier 3 version without sacrificing fuel consumption," Komatsu's Boebel says.
In addition, "intelligent electronics" have made machines more efficient, Liebherr's Klima says. "This is especially true on modern drive train systems. The trend on dozer drive trains is to go away from torque converters and power-shift transmissions. All major manufacturers of dozers introduced more efficient hydrostatic driven machines in the past few years or – if they had this already – increased the usage of hydrostats."
Klima says the combination of hydrostatics and intelligent controls enables a machine to automatically adjust performance to the current application. "The machine automatically recognizes a demand for more power before it even occurs based on various inputs on the controllers," he says. "By having all that information the controller can actively set corrective action, such as increasing available power (before it's actually needed) instead of just reacting which is less efficient."
Komatsu's hydraulically-actuated Variable Geometry Turbocharger and Exhaust Gas Recirculation valve have led to better precision and air management as well as longer component life, Boebel says. Deere's Total Machine Control allows allows the operator to set the responsiveness of the hydraulic system.
Cat's Machine Control and Guidance automates blade control. "But arguably the most innovative advancement we have introduced to the market is the D7E with diesel-electric drivetrain," Cusac says. "This machine saves customers fuel at a rate of 10 to 30 percent, with some customers reporting even better fuel savings over the D7RII." The 235-horsepower Cat C9.3 engine within the D7E turns an electric generator that converts mechanical energy into AC electrical current, which flows into a solid-state power inverter. That current is sent to a propulsion module that in turn controls the motors and provides DC current for the accessory systems.
Komatsu's new Sigmadozer blade design on its 354-horsepower D155AX-7 offers "a frontal design concept adopted for digging and rolling material at the center of the blade," Boebel says. Compared with a conventional Semi-U blade, it increases soil holding capacity and reduces digging resistance for a smoother flow of material, which means "larger amounts of soil can be dozed with less power," Boebel says. "Think of a conventional Semi-U blade as a flat shovel and the Sigmadozer as a spade nose shovel. A spade nose shovel is easier to push through the soil and requires less energy."
OPERATING TIPS
• When working on slopes, Cat's Dave Cusac recommends changing blade directions often to reduce undercarriage wear.
• Komatsu's Bruce Boebel recommends performing daily inspections on your machine and avoiding the temptation to cut corners on planned maintenance intervals. "For example, something as simple as a damaged carrier roller caught and replaced early can help prevent additional damage and wear to the undercarriage."
• When putting the machine in reverse, John Deere's John Gilbeck recommends always considering the implications of increasing operating speed. "There is a trade-off between productivity gains and undercarriage longevity," Gilbeck says. "Operating in reverse stresses the undercarriage more than forward motion and a faster operation in reverse decreases undercarriage longevity."
ROUNDUP
John Deere
Equipped with a 10.5-liter intercooled and turbocharged diesel engine, John Deere's 247-horsepower 950J features state-of-the-art controls and a full-featured hydrostatic drivetrain. Hydrostatic advantages include power turns, counter-rotation, variable travel speeds and dynamic braking. Featuring Total Machine Control, the 1050J is a 335-horsepower dozer with a 12-liter engine that offers what John Deere calls "super-sized performance" for big jobs.
For product info, visit deere.com.
Komatsu
Powered by a 354-horsepower Tier 4 interim-compliant engine, Komatsu's D155AX-7 crawler dozer has an operating weight of 87,100 pounds and features the company's Sigmadozer blade with an auto blade pitch function. The D155AX-7 also features an automatic gearshift transmission and lock-up torque converter that Komatsu says reduces fuel consumption and increases power train efficiency. The transmission features both automatic and manual gearshift modes. In addition, the D155AX-7 features a redesigned, more comfortable cab over previous models and is equipped with Komtrax telematics, allowing remote monitoring of uptime, location, maintenance alerts and more online.
For product info, visit komatsuamerica.com.
Caterpillar
Caterpillar's 235-horsepower D7E crawler dozer is the first to feature an electric drive system that replaces traditional mechanical components such as a torque converter and transmission with an electric generator, power inverter and propulsion module. Cat says the system uses between 10 and 30 percent less fuel than previous models. The D7E also features Cat's AccuGrade automated blade control, a more efficient cooling system and a quiet, spacious cab with ergonomic, adjustable controls.
For product info, visit caterpillar.com.
Liebherr
The PR 764 Litronic is the largest dozer in Liebherr's product line. Powered by a 416-horsepower Liebherr D 9508 V-8 engine the machine weighs 112,250 pounds and is equipped with a 17.8 cubic-yard semi-u blade and a single shank ripper. LIebherr says the PR 764 is largest hydrostatically-driven crawler dozer in the world, operating at a constant speed regardless of the travel speed. Inside the cab, the PR 764 features an ergonomic layout and a single joystick control. The joystick features three speed ranges that can be selected and programmed to meet an application's demands.
For product info, visit liebherr.us