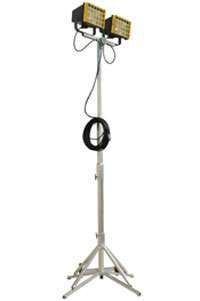 The HAL-2X400MH Hazardous Area Light Tower from Larson Electronics' Lxlite.com is designed to provide easily deployed high power illumination that can be safely operated in hazardous locations. The light weight aluminum construction of this tower provides excellent durability, and a pair of metal halide lamps provides high output and reliable operation. Adjustable height and able to illuminate areas 50,000 square feet in size, this light tower is ideal for larger work spaces and provides excellent illumination without taking up a lot of space.
The HAL-2X400MH hazardous area light tower from Larson Electronics' Lxlite.com provides operators with a versatile lighting solution for operations requiring hazardous location certification and portability. Equipped with two metal halide lamps mounted atop an adjustable and collapsible aluminum tower assembly, this light is easy to transport and deploy, takes up little space, and provides enough light to effectively illuminated 50,000 square feet of workspace. The aluminum tower is designed for durability and easy transport with heavy gauge construction and a take down tower design. The tower is constructed of thick gauge aluminum and can be adjusted from 5 feet to 12 feet in height, allowing operators to gain the maximum workspace coverage possible. The supporting legs provide excellent stability, and a pair of solid rubber wheels allow operators to simply roll the tower from one area to another once set up. The entire light tower assembly can be lowered, the top mast removed from the bottom, and the legs folded, thus providing the ability to easily stow and transport the entire unit in a compact space. The two metal halide lamps on this tower feature powder coated cast aluminum housings with tempered glass lens doors for durability and resistance to impacts and heat. The lamps produce a combined total of 72,000 lumens of light output and radiate this light in a wide flood pattern for excellent coverage of large work areas. Lxlite.com also includes 50 feet of abrasive and oil resistant SOOW cord fitted with an ECP 1523 5-15P Class 1 Division 1 explosion proof straight blade plug for safe and reliable connections and plenty of operating length. These towers operate with 120-277 VAC current, and available options included 220-480 VAC configurations for use with high voltages common in industrial work places. These hazardous location light towers are Class 1 Division 2 Groups C and D approved as well as wet area suitable, and are ideal for use in plant turnarounds, cleaning operations, mining applications, and anywhere powerful yet hazardous location compliant illumination is needed.
"This hazardous area quadpod provides illumination to 50,000 square feet of work area while carrying a Class 1 Division 2 approval assures protection against inadvertent ignitions," said Robert Bresnahan of Larson Electronics LXLite.com. "The HAL-2X400MH is made of non-sparking, lightweight, collapsible, wheeled aluminum for easy transportation and storage."
Larson Electronics' carries an extensive line of explosion proof light towers, hazardous location lights, intrinsically safe lights, portable light towers, and intrinsically safe LED flashlights. The Larson Electronics family of brands can be found on Magnalight.com, LXFlashlights.com and LXLite.com. Larson Electronics can be reached directly by calling toll free, 1-800-369-6671 or 1-214-616-6180 for international inquiries.