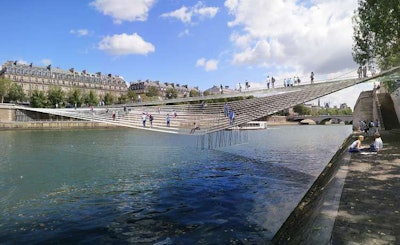 Citizens and visitors of Paris will soon see an interesting new structure over the city's Seine river. French architecture firm bureau faceB's plans won in a competition, allowing the firm to build an innovative bridge over the river, Co.Design reported.
Half of the bridge will be traditionally stable, while the other half will intentionally wobble. The wobbling side of the bridge will be held together by wires and glass fiber reinforced concrete beads.
The bridge will connect the city's island to its mainland, bringing together two neighborhoods, bureau faceB's plans project. The firm intends for the bridge to bring people closer to the water (both literally and metaphorically) and to provide "a unique perspective on Paris."
"The objective is then to be closer to the water so as to regain contact with the river and (create) a picnic area on the banks of the Seine," bureau faceB's plans state.
Co.Design anticipates the bridge to be a tourist attraction, due in part to its prime location.
According to bureau faceB, the plans won the firm first prize in the International Ideas competition.
Click here to read the full story. Or click here to view the firm's plans.