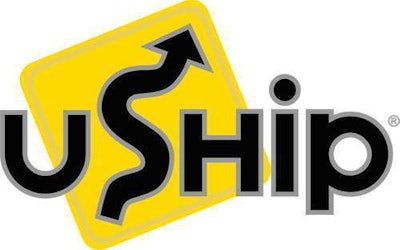 "Online shipping marketplace" and freight automation software provider uShip announced a partnership with DB Schenker, a large European third-party logistics provider. uShip's "Pro" technology backbone will power "Drive4Schenker," an online freight-matching and -management model launching later this year. The five-year agreement, worth tens of millions, is exclusive within Europe.
Via Drive4Schenker, uShip PRO, the company says, will facilitate the management of 25,000 approved carriers in DB Schenker's network and the execution of up to 10,000 loads per day.
"uShip's approach transforms our transportation management," said Jochen Thewes, CEO of Schenker AG, the 3PL's parent company. "For DB Schenker, the future of our land transport business is automation, standardization and more efficient engagement with our thousands of transport partners, especially through mobile devices. We're confident uShip's proven, scaled platform will help us to change and re-engineer our business model."
The Pro application, as previously reported in Overdrive, enables any business with freight — enterprise shippers, brokers, 3PLs, ecommerce merchants, retailers, parts distributors, vehicle manufacturers and more — to create their own private network of vetted carriers that compete to win business.
The private network feature provides transparent carrier reviews and uses shipment-level offer price, along with mobile shipment acceptance and tracking. Pro lets 3PLs and direct shippers access more carriers, real-time tracking, lower freight expenditures and more truck capacity.
uShip Pro combines pricing and performance transparency, real-time bid/offer pricing and mobile tracking technology, as well as supplemental capacity through uShip's online provider network. It's also a new day for old-school shippers who still use phone calls, fax, emails, spreadsheets and calculators to manage carriers and freight.
Bringing together 25,000 approved carriers and thousands of active loads within the 'Drive4Schenker' private network creates a dynamic marketplace of supply and demand. uShip PRO technology helps match both sides quickly and efficiently through real-time bids/offers, automated booking and payment, mobile tracking and status alerts, carrier qualification monitoring and performance reports.
"uShip PRO works like a TMS [Transportation Management Software system] for covering loads, but is far more efficient because it's automated, transparent and mobile," said Matt Chasen, CEO and founder of uShip. "Studies show less than a third of shippers use a TMS today, which means a majority of shippers book freight through horribly inefficient means like phone calls, emails and fax machines. Partnering with DB Schenker is huge validation for our Web and mobile platform as we help them digitize their road freight business."
Headquartered in Essen, Germany, DB Schenker global operations comprise land, air, ocean freight, contract logistics and supply chain management. It has 2,000 locations and 66,000 employees worldwide, and reported $17 billion (USD) in 2015 revenue.