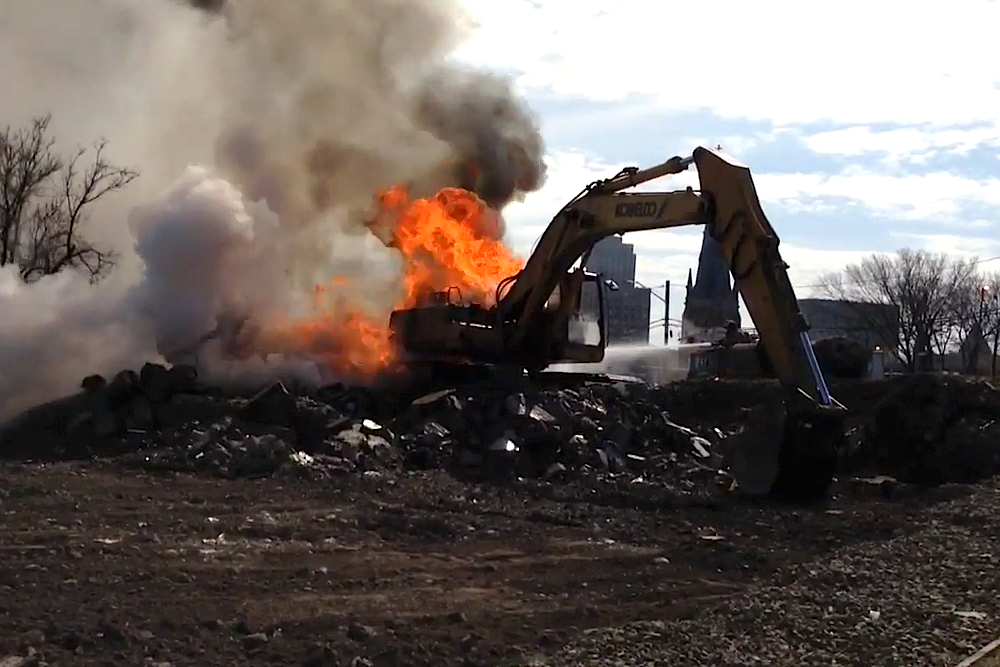 While working to remove debris on a demolition and construction site, an excavator suddenly burst into flames in Syracuse, New York, Monday afternoon.
According to a report from Syracuse.com, the machine's operator decided to stop working and exit the machine after noticing something was wrong as he loaded concrete from a demolished hospital building onto trucks. Moments after the man fled from the cab, flames engulfed the excavator.
Black smoke filled the jobsite as firefighters battled the fire and at one point the boom from an explosion was heard in the area. The blaze took 40 minutes to tame, some of which is seen in the video below.
The machine was destroyed in the fire. It was owned by The Hayner Hoyt Corp., contracted by St. Joseph's Hospital Health Center to demolish the building and convert the space to a parking lot.
A construction manager with the group said the fire was triggered when the turbocharger in the machine's engine malfunctioned and "burst." As our executive editor Tom Jackson noted in his recent maintenance article, the turbocharger is a constant source of heat, making it a prime source for igniting a mix of hydraulic fluid and air.
You can read more about preventing fires on heavy equipment in Tom's article here.