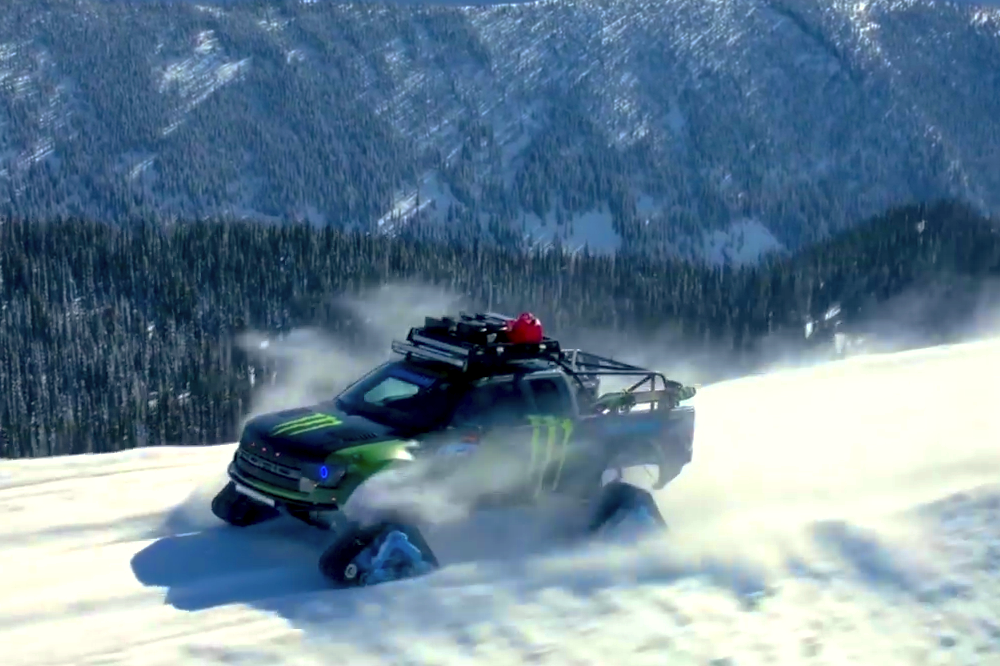 Behold, the ultimate snow truck. The folks of Boston and the rest of the northeast could have really used one of these during last week's blizzard. Unfortunately, there is only one RaptorTRAX and it belongs to Ken Block.
At its core, the truck is a 2014 Ford F-150 Raptor outfitted with four Mattracks treads. But as Block explains in the third video below, he's also boosted the Raptor's 6.2-liter V* engine with a Whipple supercharger, increasing horsepower to a crazy 650. The transmission is the stock six-speed.
But the tracks are what allow this truck to traverse mountainous and snowy terrain. Block they're actually capable of driving on everything: dirt, mud, asphalt and gravel. But they shine on snow. The suspension has been modified for off-roading and Block says King shocks were installed to "handle the load" of the 350-pound-each tracks.
You can watch the RaptorTRAX shred in British Columbia (you'll have to ignore the ignore some intermittent snowboarding) in the first video. In the second you get to see what a four-track burnout looks like and in the third, Block takes you on a static tour of the truck. Enjoy.