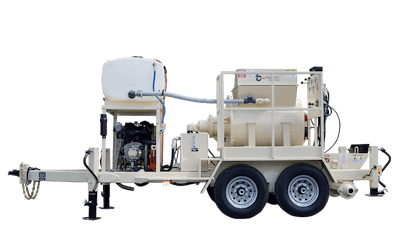 Blastcrete's new RS180 Mixer-Pump is designed to pump further and faster without surging.
It offers variable speeds up to 18 cubic yards per hour for gypsum flooring underlayment, grouting, cellular concrete and wet shotcrete.
The 2L8 rotor-stator pump allows operators to adjust material flow to the job. Tightening the pump increases line pressure for longer distances; loosen it for shorter distances. Being able to adjust the pump reduces wear on the system, the company says.
A 12-cubic-foot hydraulic spiral mixer offers speeds from 0 to 60 rpm. It can mix a full load in less than two minutes, the company says. The receiving hopper is 15 cubic feet and can be charged with 1,000-pound bulk bags or an 11.6-cubic-foot skid steer bucket. The Mixer-Pump runs on a 55-horsepower Tier 4 Final Yanmar water-cooled diesel engine.
Blastcrete also designed the Mixer-Pump for easier access to cleaning and wear parts, and the mixer can be detached by removing four bolts.
The Mixer-Pump comes with a dual-axle, steel-framed high-speed towing trailer.