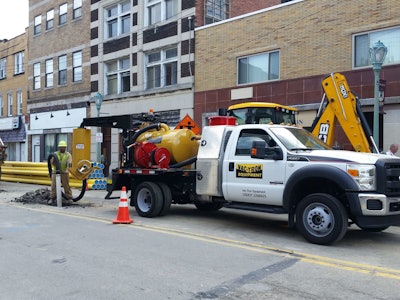 Vermeer has acquired Florida-based Vac-Tron Equipment, makers of vacuum excavation products for underground utility applications.
Once the purchase is complete, Vac-Tron will be integrated into the McLaughlin Group, a South Carolina-based drill tooling and vacuum excavation company Vermeer bought in 2017.
The combined companies will operate under the group name Vermeer MV Solutions, and will provide Vermeer-branded vacuum excavation equipment and technology through Vac-Tron and McLaughlin series product lines as well as McLaughlin-branded utility accessories and auger boring systems, Vermeer says in a press release.
The new group will be led by one leadership and sales team led by general manager Dav Van Wyk. Vermeer says the leadership teams from Vac-Tron and McLaughlin will "serve as a unified team," and the "(Okahumpka) Florida and (Greenville) South Carolina locations will continue production.
The acquisition brings a close to a close relationship between Vermeer and Vac-Tron whose products "have been sold almost exclusively through the Vermeer dealer network," Vermeer says.
Vermeer cites growing demand within the soft dig markets and a strategy "to provide a comprehensive suite of vacuum excavation technology, equipment, training and support," as its motivation behind the Vac-Tron purchase. Vermeer president and CEO Jason Andringa adds that the purchase gives dealers "a more efficient, single-point connection to a full product lineup."
"Coming together solidifies the long-term strategy and commitment to support customers and dealers in a unified way," Andringa says.
"We've been proud to have the Vermeer name on our equipment for the past 13 years. Now, we are proud to formally be a part of the Vermeer family. We look forward to investing with McLaughlin and Vermeer to deliver the technology and equipment our customers need as we provide the highest quality product for the customer," says Tim Fischer, Vac-Tron president, in a written statement.