If there's one message Rose Ann Woolpert has for families in construction, it would be: Tell your stories.
"Children need to know that construction is essential to the fabric of communities," she says. "Without roads, we wouldn't be able to function. Some of that message has been lost."
Woolpert is doing her part to tell the stories of Graniterock, now 118 years old, where she is a member of the board of directors. When her husband, Bruce Woolpert, died suddenly in a boating accident in 2012, she searched for a way "to honor his vision for his work and his belief in the importance and satisfaction of work," she says. At the time of his death, Bruce had been the president of the construction materials and services provider for 25 years, taking over a company founded by his grandfather, A. R. Wilson.
"Engine Number Ten" is the first of three "nearly true" children's books that Woolpert wrote as a way to both process some of her grief and promote her husband's "Yes, we will" approach to business.
"I noticed that a co-worker's son was obsessed with trains," she relates, "and we have this wonderful story about a train that worked in our quarry."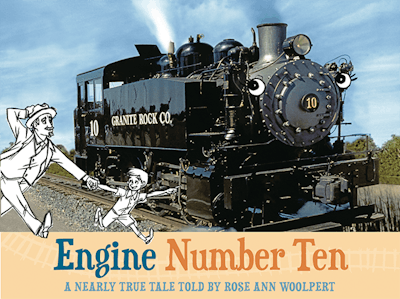 As the Graniterock historian, Woolpert was familiar with Number Ten's story. She also could draw on a treasure trove of photographs, stories from earlier days and interviews with retirees. "I think it was in the family genes to take pictures," she says with a chuckle. "And they were part packrat."
"Engine Number Ten" is the story of Graniterock's last steam engine before the company converted to diesel locomotives. In the tale, Number Ten saves the shiny new diesel locomotive from being trapped by a rock slide. Number Ten's reward? Full restoration to working order and a place on the tracks at the California State Railroad Museum in Sacramento. That final part is true: a restored Number Ten now offers steam train rides at the museum and was featured in the 2005 Steven Spielberg film, "Memoirs of a Geisha."
The positive response from "Engine Number Ten" and Graniterock's rich history prompted Woolpert to write two more books: "Big Bill and His Little Mixer Truck" and "Cauliflower Boulevard." Each book is translated into Spanish on the Yes We Will Books website, which also features downloadable coloring pages.
"Big Bill is definitely about Bill Van Sandt," Woolpert says, referring to a former Graniterock employee who worked for the company for 46 years. The story co-stars Van Sandt's original 2-yard, orange and green 1950 Ford chassis Willard Concrete Mixer truck. "I also wanted the story to be about overcoming self-doubt," she says, so the little mixer truck comes up against a large job that requires several big mixer trucks. Still, the little mixer truck contributes his part and helps get the job done.
The Willard Concrete Mixer still makes parade and event appearances as part of Graniterock's fleet of historic vehicles.
"Cauliflower Boulevard" holds a surprise for adult readers: it's about the summer that author John Steinbeck worked on a Graniterock road crew. "This is something everyone in the company always knew," relates Woolpert. "There was even speculation that one of the men Steinbeck worked with on the crew was the inspiration for Lennie in 'Of Mice and Men.'"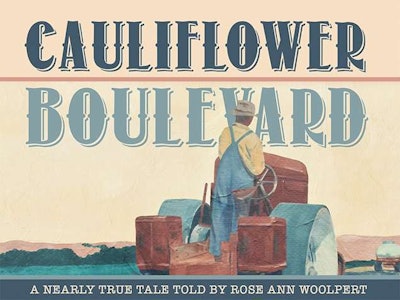 Using photos given to Graniterock by a man whose father had worked at the company during that time, "Cauliflower Boulevard" also features some of Woolpert's own landscape paintings. Jaguar Design Studio provided illustrations for all three of the books.
Each of the books carries the dedication line: "For Bruce, who said 'Yes, I Will."
For the past two years, Woolpert has promoted her three books at World of Concrete in Las Vegas. "I talk with people from all over the world who tell me their stories," she says.
Which prompts her to say: "Don't think that you have to write a children's book to share your story. Bring out the photos of the family members who started your company and share it on your website. Family histories are important to share, and it builds the DNA of your company."