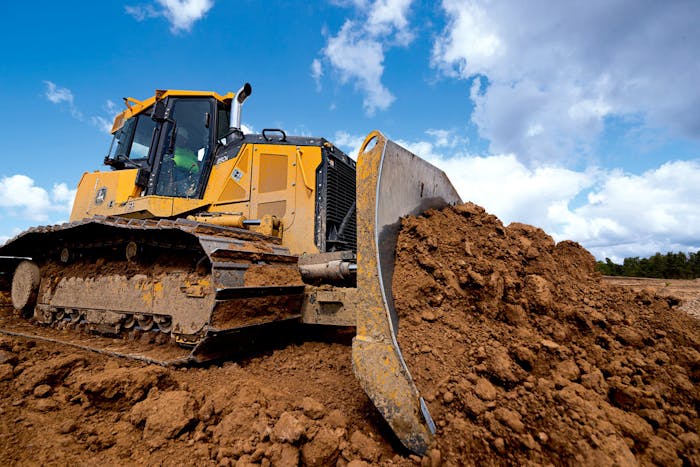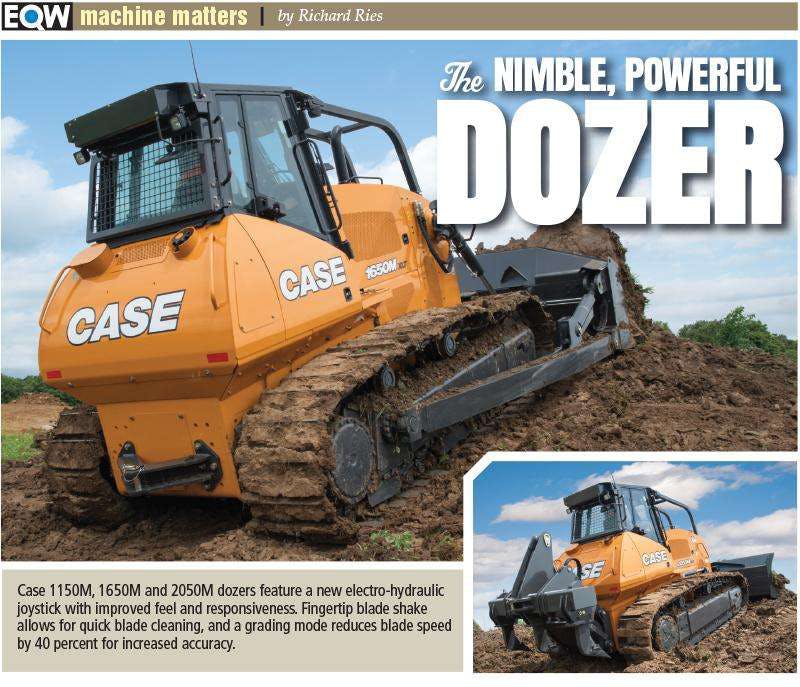 Construction equipment manufacturers typically answer customer demands by making equipment more versatile, durable and productive.
That's fine for skid steers and toolcarriers, but what about purpose-built machines? Dozers, for example. There's no market for dozer-mounted augers. No one uses a dozer for snow removal. If a dozer's primary applications are to push dirt and grade, how do you increase its value to users?
Do-it-all dozers
One way is to make a single dozer do what two dozers, or a dozer and a motor grader, used to do. "We're seeing a shift to the use of one dozer to do it all," says Nathan Horstman, product marketing manager at John Deere. "In the past, customers used one of our big dozers, such as our 950K and 1050K, for rough cut followed by a smaller dozer or motor grader for finish grading."
Deere's SmartGrade and Auto SmartGrade are part of the reason one dozer can do it all. Available on the 700K, 750K and 850K dozers (130, 165 and 205 horsepower), Auto SmartGrade monitors track slip to achieve maximum production. SmartGrade, which is based on the Topcon 3D-MC2 system, provides final-grade precision. In addition, the 850K and 950K models offer six-way PAT blades, so these large dozers can also provide finish grading.
In some cases, features have migrated from one size class of dozers to another to round out performance. Caterpillar's AutoCarry feature monitors track slip and adjusts blade position to maximize load carrying capacity while minimizing track slip. This feature first appeared on the D10 and D11, but is now on machines all the way down to the D3K2. Automatic Traction Control flowed the other way, first as a standard feature on the D3K2, D4K2 and D5K2 models and quickly progressing up to the D6. A similar system is found on the D7E.
Undercarriage improvements
Refinement continues in undercarriages. The goal is to improve performance and reduce costs by reducing wear and extending replacement intervals. Undercarriages have been around a long time, so improvements come not from fixing a basic design flaw in one area but rather making subtler changes in all areas, from physical dimensions to metallurgy to lubrication. The effect of many smaller changes can add up to significant savings.
Case Construction Equipment widened the track frames, track rollers, carrier rollers and idlers on all their M Series dozers and made improvements to the guards and track guides. Modifications to carrier roller brackets and recoil spring housings provide more clearance around the rollers to reduce mud buildup. Some larger models have an upgraded sprocket design with relief to force mud out from the track chain and sprocket, reducing wear and track popping.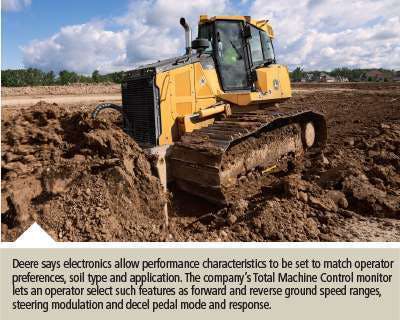 Standard on all Case M Series dozers are the Sealed and Lubricated Track (SALT) HD tracks, which are designed to increase track life by up to 20 percent. Track frames are tuned to reduce vibration during operation and to reduce noise for the operator by about 20 percent.
Additional modifications to the undercarriages of Case's three largest models (the 127-horsepower 1150M, the 150-horsepower 1650M and the 214-horsepower 2050M) provide additional strength, reduce the number of parts and help reduce carrier roller deflections, says the company. New rock guards, a recoil system and a central grease point for the pivot shaft and equalizer beam have also been added.
"The undercarriage is second only to fuel in O&O costs," says Max Winemiller, Case product manager, "so improvements here can have a big impact on the customer's profitability."
Liebherr offers free-turning bushings on their PR 716 Litronic dozer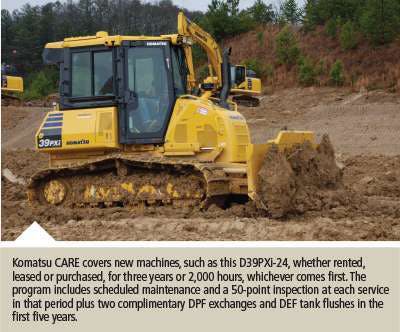 , which extends bushing service life on soft, abrasive ground, such as sand. Chain links and rollers have additional wear material, further supporting longer service life. In areas with impact loads, such as rock, Liebherr recommends their lubricated-for-life chains. XL and LGP undercarriage versions are available to match the PR 716 Litronic to customers' needs. LGP undercarriages, preferred for soft ground conditions, are also favored for finish grading, as they produce less soil disruption.
Remote possibilities
Cat Command remote control, once available only on the D10T and D11T, is now available on the D8T, bringing a feature from the mining industry to the construction and aggregates industries. The D8T is Command-ready with all hardware and software in place. For short-duration remote control, an over-the-shoulder console allows line-of-sight control up to a quarter of a mile from the dozer. For extended remote operation, a station modeled on the cab of the dozer gives the operator access to familiar controls, alarms and features. The station can operate by line-of-sight or in teleremote mode with the addition of video and audio feeds from the dozer.
Komatsu America offers radio control on the D155AXi-8. Sebastian Witkowski, Komatsu Intelligent Machine Controls product marketing manager, emphasizes the role electronics and hydraulics play in making remote control possible. "Much of dozer efficiency and productivity has relied on operator instincts," he says. "Removing the operator means losing that sensitivity. Machine control has replaced the responses of an experienced operator by monitoring and adjusting for such things as track slip."
Is remote control a prelude to the intelligent site? It's already happening. Komatsu announced its Smart Construction service in Japan in 2015, and its remote-capable dozers are part of that automated jobsite service.
Electronics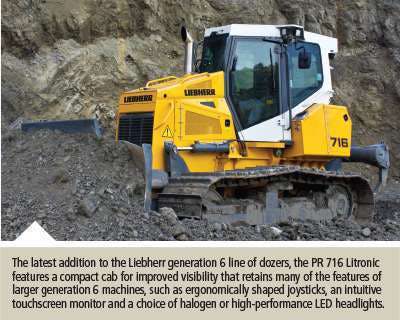 Horstman says electronics allow performance characteristics to be set to match operator preferences, soil type and application. Deere's Total Machine Control monitor lets an operator select forward and reverse ground speed ranges, steering modulation, decel pedal mode and response, hydraulic speed and aggressiveness of direction reversals. He says the latter helps operators coming from torque converter machines, who are used to some roll-out between directional changes, feel comfortable on Deere's hydrostatic machines from the start.
Jonathan Tolomeo, Komatsu dozer product marketing manager, says a third blade mode has been added to their Tier 4 Final machines. This "fast" mode coordinates blade action to travel speed, and both characteristics can be adjusted by the operator. Other electronically controlled features include auto idle shutdown; a diesel exhaust fluid monitor with visual and audible alerts for low levels; and up to 100 ID codes, which can be assigned to operators, jobs or any other aspect of machine use the customer wants to independently track.
Charles "Chuck" Murawski, also a dozer product marketing manager with Komatsu, says a faster computer processor provides smoother blade control at higher ground speeds. "This is important because operators want to finish grade in second and even third gear."
Telematics are gaining acceptance, and manufacturers are starting to tweak their telematics in response to increased customer demand. Deere, for example, now offers five years of JDLink as standard coverage with each new machine; coverage had been for three years.
Machine control is also expanding. This can be tricky, and manufacturers must be flexible in their offerings. Virtually all mid-size and larger dozers come with some sort of blade control. Many come pre-configured for 2D laser guidance. All manufacturers offer 3D machine control, although the type and technology vary. Case M Series dozers can come factory-installed with a Leica Geosystems 3D system, but its machines are also compatible with systems from Topcon and Trimble. To help customers sort this out, OEMs are making sure their dealers have experts on hand to answer questions and make recommendations.