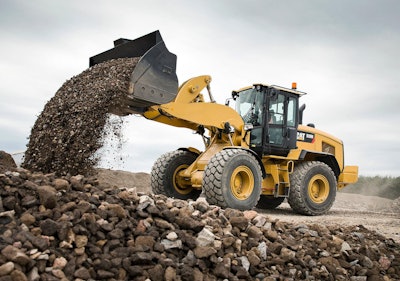 Caterpillar has introduced several enhancements to its three M-Series small wheel loaders as part of a 2017 update and has introduced a variant of the 930M designed as an Ag Handler.
The company first introduced the 926M, 930M and 938M loaders at the World of Concrete show in February 2015. And while the specs on these machines haven't changed much (full spec listing is below), Cat has updated some key operation elements of these machines and added a major feature in its Payload Management system.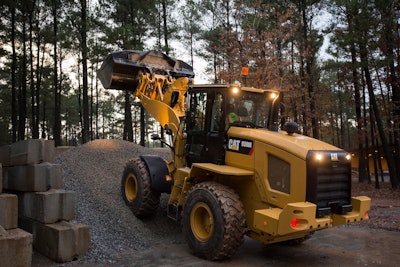 Upgraded secondary display, now with Payload Management
With the 926M, 930M and 938M, Cat introduced a larger secondary display for that allows operators to customize controls to their liking while offering up a wealth of information including: operator profiles, application profiles, service-mode and preventive maintenance alerts and much more. With the 2017 update, Cat has upgraded this display further with a QWERTY keyboard for easier and faster navigation.
That secondary display also made this next upgrade an available option: Cat Payload Management (CPM). This system seeks to reduce an operator's number of cycles by allowing him/her to confirm when there is sufficient weight in the bucket before leaving a pile. CPM also allows the operator to set target loading weights and monitor the cumulative amount of material loaded into a truck or hopper.
And when equipped with the optional printer, operators can print up to three copies of a recorded weight ticket. CPM is fully integrated into the machine and allows tracking of specifics like total material moved and number of trucks loaded through Cat's VisionLink telematics dashboard.
Improved uptime
As part of enhancements to its Auto-Lube system on these loaders, Cat says it has replaced rubber hoses and swivel joints with steel lines running to the bucket pins to improve system durability. New secondary zerks added to the system enable the operator to manually grease circuits, should the need arise. To save time, the technician can add grease quickly to the new main manifold, which greases every circuit on the loader, or specific individual circuits can be greased independently.
Auto-Lube has also been integrated into the new secondary display and VisionLink telematics. This allows the system to automatically send diagnostic codes to the operator and fleet managers to assist with troubleshooting.
Cat has also fully integrated Tire Pressure Monitoring (TPM) into these new small loaders and VisionLink. The system allows operators to glance at the secondary display to see current tire pressures and can be configured to provide warnings to dealers and the operator if pressures drop too low or increase too much.
Cab improvements
The cab on these loaders has also been improved with a new standard binder/clipboard storage area for securely storing papers and manuals, while an extra 1.2 cubic feet of lockable storage can be optionally mounted to the bottom side of the cab for securing tools, grease guns, gloves and other items.
930M Ag Handler
In North America, Cat is offering a version of the 930M specifically designed for the agriculture market. With a 50 gallon-per-minute flow rate, the 930M Ag Handler offers cycle times that are up to 20 percent faster than the standard M-Series small loader models.
This machine offers increased payloads with right-sized high lift, which delivers 2,490 lbs. more tip load compared to the 926M high lift, and 1,480 lbs. higher than the standard 930M high lift. Its 12 percent higher pressure, coupled with increased higher flow, delivers more hydraulic power to get the most out of hydro-mechanical tool attachment operation, such as the silage defacer, Cat says.