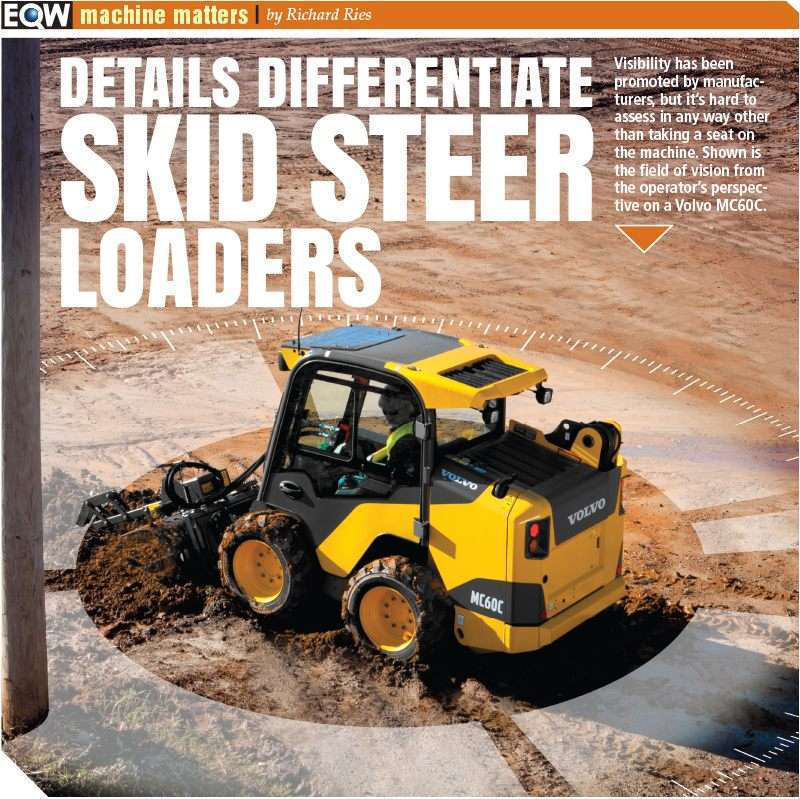 Skid steers have so much standard and optional equipment in common it may seem all machines are created equal, or nearly so. But look closely at the details and you'll uncover real differences that will affect how well a machine fits your needs.
The similarities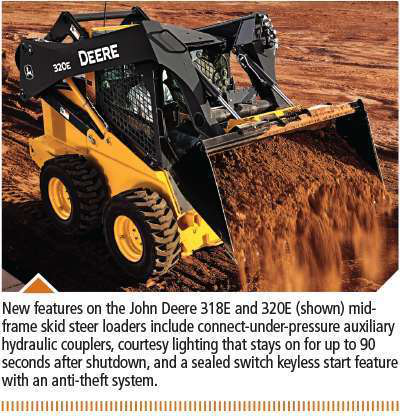 The market has settled on a number of features shared among nearly all machines.
Tier 4 Final compliance is one example. While flexibility in the EPA's program allows some manufacturers to bring some models into compliance at a later time, for the most part skid steer loaders had to meet Tier 4 Final standards as of January 1, 2015.
Another example is the configuration of optional cabs; they're bigger, quieter, and cleaner. Controls are our third example: foot pedals, levers, and joysticks are offered.
Joystick control patterns can be changed by flipping a switch or via an in-cab touch-screen monitor. With so much standardization, what besides paint color and decals separate one manufacturer's machines from those of another? And do those differences matter?
Tier 4 Final
Marketing materials and advertising often tout the simplicity of a machine's emissions control system. The implication is that this machine from this manufacturer is simpler and therefore less costly and easier to maintain than a competitor's.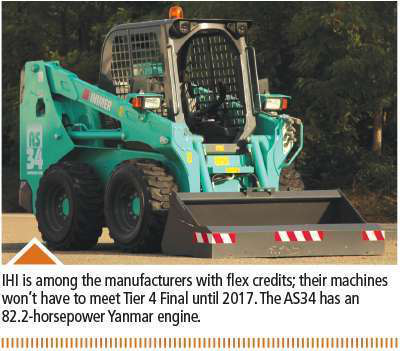 Emissions standards for machines of less than 75 horsepower, however, are different than those for machines of 75 horsepower and greater.
The emissions control system on a sub-75 horsepower machine will likely be simpler than that of a more powerful machine. To be valid, comparisons must be made on machines in the same power class (under 75 horsepower or 75 horsepower and above). Skid steers are among the types of equipment powered by engines on either side of the 75 horsepower break point so their emissions control systems vary widely.
Case's new SR240 and SV280 models are rated at 74 horsepower. The new SR270 and SV300 are rated at 90 horsepower. "The Tier 4 Final solution on the 74-horsepower models is entirely maintenance free with no filter to maintain or fluids to add," says Scott McElroy, product sales training manager, skid steer and compact track loaders, Case Construction Equipment. The system uses a combination of diesel oxidation catalyst (DOC) and high-efficiency flow-through filter. The 90-horsepower models use selective catalytic reduction (SCR), which requires the use of diesel exhaust fluid (DEF).
The two emissions control systems are very different and support the different operating needs for medium and large skid steer loaders. OEMs seek to assure customers that the complexity created around off-highway emissions mandates don't need to translate into complex solutions on the equipment with troublesome operating, repair and maintenance procedures. On higher-horsepower engines "owners and operators who get in the habit of topping off their DEF tank on the SCR systems when they refuel notice there's no additional attention required," says McElroy. "It's that easy."
One way to get under the horsepower threshold is to de-rate an engine that had been rated slightly higher. "By doing only that, however, you get a machine that feels heavy, sluggish and unbalanced," says Gregg Zupancic, product marketing manager for skid steer and compact track loaders with John Deere. "Taking advantage of advances in hydraulic system design closes that gap and the net effect could actually be improved performance, even with the reduced horsepower." Zupancic says. Improving hydraulic efficiencies or adding more expensive, higher-performing hydraulic components can help offset the reduction in overall machine horsepower.
Brian Rabe, senior product manager for skid and track loaders with Gehl and Mustang, notes while some models have decreased horsepower, they also have increased torque. "The 85-horsepower models produce 207 to 220 pound-feet of torque while the 74-horsepower models produce 210 to 250 pound-feet," says Rabe.
"Typical engine operating speed is 1,300 to 1,700 rpm. Peak torque occurs at 1,600 to 1,700 rpm but peak horsepower is at higher engine speeds. So performance during most applications is as good as or better than with the older, higher-horsepower models because there's more torque available."
Rabe says there are a few instances where peak engine speeds are attained during operation but even then the decreased horsepower is hard to notice due to low total machine load; he says roading is one example. "But breakout, lift, and tractive effort are 3 to 4 percent higher than with previous models. Customers need to think beyond simple peak horsepower to other facets of operation, such as horsepower, torque curves and fuel consumption, to appreciate efficiencies and performance of the Tier 4 machines."
Cabin pressure
Customers have been demanding better working conditions for operators and manufacturers have obliged by improving the design of their cabs.
Interior space on Volvo C Series skid steers is 27 percent greater than on previous models. There's ample storage space under the left armrest for an operator's keys, wallet, phone and other personal items. There's also a 12-volt outlet in that storage compartment. Two instrument consoles, one in the upper right corner of the cab and one in the upper left, are easy to see and use yet don't intrude into the operator's line of sight for most loader operations. The consoles provide immediate access to such features as high flow and boom suspension modes through touch screens.
A and B Series Volvo skid steers had the traditional dual lift arm design. When the C Series was introduced in 2011, Volvo moved to a single arm design, as manufactured by their skid steer partner JCB. The single arm design leaves the left side open for cab access. "Entering and exiting the cab from the side is safer and more natural," says product manager Kevin Scotese. "The operator doesn't have to contort to climb over the attachment or perform an uncomfortable body turn to get seated."
JCB claims the side-entry design makes their skid steers 17 percent quicker in applications requiring multiple entries and exits than dual-arm models. There are visibility benefits, too. The single arm, low-profile single loader tower, and absence of a rear torque tube contribute to the 270 degrees of visibility on JCB skid steers. The company claims this range of visibility is 60 percent better than with competitors' dual-arm models. "Visibility, ease of entry and exit, and other distinct advantages are why JCB has used the single-side lift arm exclusively since our entry into the skid steer market in 1993," says Ashby Graham, global product manager, skid steers and compact track loaders, JCB.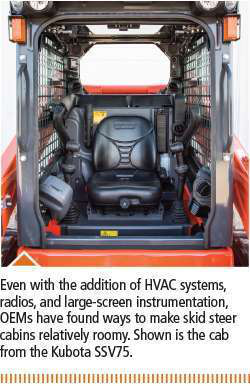 Brent Coffey, loader product manager at Wacker Neuson, says there are two components of productivity – machine and operator – and that there are two components to operator productivity: comfort and visibility. The cabs on both Wacker Neuson skid steers are isolated pods that reduce noise and vibration and pressurized to keep out dust. The automotive-style HVAC has multiple adjustable louvers to minimize window fogging and maintain operator comfort. Options include an air-ride seat and AM/FM radio with dual speakers.
The cab-forward design employed by several OEMs is obvious on Wacker Neuson models. Near-vertical arms pull buckets and other tools toward the front of the machine. The net effect is that operators have excellent visibility of leading and cutting edges of buckets; that improved visibility improves productivity not only with buckets but also with other tools and attachments. A large top window, low side windows, and curved front glass give a panoramic view of the work site. "It's not enough to provide comfort," says Coffey. "You also need design elements and features that promote confidence in the operator."
Although cabs have become more comfortable, many customers still opt for an open machine rather than enclosed. "Our sales are 80 percent open and 20 percent closed because the rental market is a big part of our customer base," says Kendall Aldridge, vice president of sales and operations at IHI Compact Excavator Sales, the U.S. distributor for IHI products. "Rental shuns enclosed loaders because of the cost of replacing broken glass."
The TS80R2 and TS80V2 skid steers from Takeuchi feature an all-new, multi-informational LCD display with menu navigation. Typical information is shown, including coolant temperature, fuel level, oil pressure and engine RPM. Beyond those the menu provides access to four areas: basic set-up, diagnostics, screen set-up, and system set-up.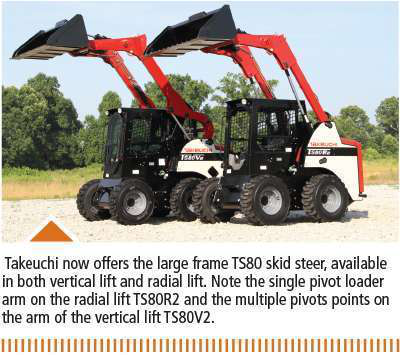 Contrast and brightness, language preference, time of day, and units of measure are among the common user-settable parameters that are easily accessible. "Screen set-up allows custom configuration of the gauge screens so operators can see the information that matters most to them," says David Caldwell, product and training manager, Takeuchi U.S. "Each screen can have two to four windows, and the operator can select from 15 items to display."
Subtle control
As skid steers have evolved, so have their control methods. That evolution, however, has bypassed many operators who have a strong preference for one type of control. By providing the preferred (and therefore familiar and comfortable) controls, owners help ensure maximum productivity and safety. For this reason, manufacturers offer a variety of control packages.
The Bobcat Standard Controls setup has dual steering levers for drive functions and dual foot pedals for loader lift and tilt. The Bobcat Advanced Control System offers a choice between Bobcat Standard Controls and H-pattern hand controls using the left and right handles. The Selectable Joystick Controls (SJC) setup provides low-effort joystick control of all workgroup functions and the ability to use an ISO or "H" pattern, selectable with a dash switch.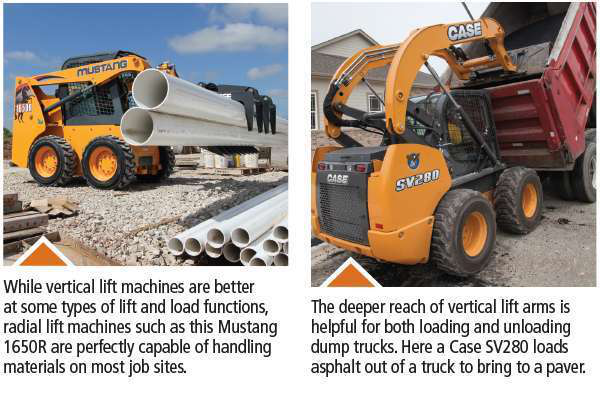 "Much has been made about how younger workers prefer joysticks because they were brought up with video games," says Mike Fitzgerald, loader product specialist, Bobcat. "But older employees also appreciate the reduced effort and enhanced control afforded by joysticks. It's less a matter of age than experience, and once workers have experience with joysticks they generally prefer their use, regardless of the worker's age."
Bobcat also offers Radio Remote Control to allow loader operation in environments where you would rather be operating outside of the machine. Radio Remote Control requires SJC. The system is available for Bobcat skid steers and compact track loaders; it's also compatible with Bobcat all-wheel steer loaders. Radio Remote Control installs and removes in minutes and can be moved easily from one machine to another. Operating range is about 1,500 feet and requires line-of-sight between the operator and the loader. The transmitter (without shoulder straps) weights 8.5 pounds.
Caterpillar just announced it, too, will offer hand and foot controls as well as joysticks, but with a difference. "Cat hand and foot controls offer multiple control response modes that allow operators to tailor the drive and implement functions to match their skill or task," says Kevin Coleman, senior marketing engineer. Cat went with single-axis joysticks instead of mechanical levers. The joysticks allow operators to drive the machine while using the arm rests. "Operators can fully use the armrests for increased comfort and reduced fatigue."
Loader armrests are attached to seats and joysticks are attached to armrests; when the seat is raised or lowered or moved fore or aft, the joysticks stay in the same position relative to the seat. Armrests and joystick pods on Cat skid steers can be adjusted independently of the seat to provide a wide range of comfortable positions for operators in a wide range of sizes.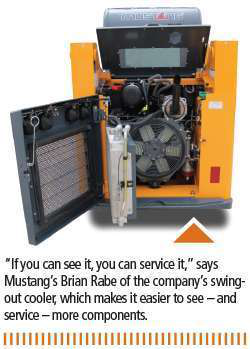 Joysticks on the two models of Kubota skid steer loaders provide immediate access to essential operating parameters such as the standard two-speed drive, proportional auxiliary hydraulic flow, and continuous auxiliary flow. There are also four auxiliary electrical switches that can be configured to meet the owner's needs (three available switches if one is used to operate turn signals). A dial-type hand throttle control is handy in applications requiring a constant engine speed, such as cold planning and trenching. "Starting in 2016 the SSV Series skid steers will offer Kubota's Hydraulic Pilot ISO pattern drive and loader control system," says Paul Manger, Kubota product marketing director, construction. "This responsive and precise system will provide improved control and even greater operator comfort and efficiency."
"Not all joysticks are proportional," says Aldridge, "and not all that are proportional have the same proportionality. Some act like on/off switches. Operators want smooth and responsive operation and proper joystick function is essential."
Radial, vertical
There are two types of lift arm styles, radial and vertical. Each has advantages in certain applications. Here's a quick overview from Gregg Warfel, district sales manager, Terex Construction Americas.
A radius lift path skid steer loader has only one pivot point at the rear tower, allowing the loader to have a radius arch from ground level to full height when raising the boom. This configuration works better for ground engaging applications such as digging and grading.
A vertical lift path skid steer loader has more than one pivot point at the rear tower which changes the geometry of the loader arm to lift higher, lift heavier and reach farther when raising the boom to full height. A vertical lift path skid steer loader is better at lift-and-carry applications, such as lifting pallets of heavy material such as pipe, rebar, blocks and pavers. They are also better at production loading because they reach farther into the box of a dump truck, allowing the loader to center load the truck better.
Room for improvement
While current models are sophisticated and offer great value and performance, there's still room for improvement. "A true plug-and-play design would be helpful," says Rabe, "where the machine would identify a compatible work tool or attachment and automatically configure performance parameters to match the need." This feature, sort of a machine-equivalent USB port, would maximize performance and also reduce risk of damage. One example would be restricting hydraulic flow to the maximum recommended for that tool.
Zupancic cites the plethora of zerk fittings as something that should be addressed. He says a vertical-lift machine may have 16 zerks. A central lube system or bushings that do not require grease would ensure maintenance is simplified, but each brings issues of cost, space requirements and ways of protecting from damage.
Zupancic also says there's risk in adding features. "Machines from a decade ago were comparatively primitive but also straightforward in their operation. Machine operation can become less intuitive as you add features." It's something manufacturers will have to consider as they continue to pad the list of loader features and options.