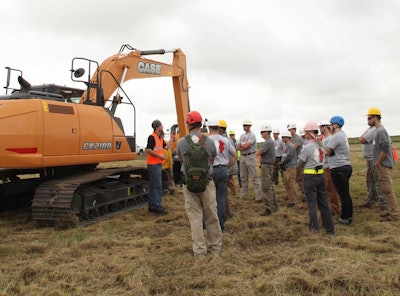 As an extension of its Dire States initiative, which advocates for the improvement and increased funding of American infrastructure, Case Construction Equipment recently assisted in much-needed repairs at a Texas wildlife refuge that also provided heavy equipment training for a group that specializes in disaster response.
Case provided three excavators and three skid steers to an erosion control project at Atacosa National Wildlife Refuge in Los Fresnos. The project was carried out by the National Wildlife Refuge Association, the U.S. Fish & Wildlife Service and Team Rubicon.
Team Rubicon is a volunteer organization that seeks to "bridge the gap" in the time between the occurance of a natural disaster and when  traditional aid organizations are able to fully deploy in an affected area. The group is made up of veterans of both the military and first responder groups.
"For our team, this kind of training partnership with the Refuge System is invaluable," said Jason Ferguson, Team Rubicon's deputy director of training and exercise. "Whether hurricane, earthquake, or flood response, the ability to safely operate heavy machinery bolsters our disaster relief efforts in communities across the country. This partnership also allows us to engage our members through service projects to mitigate known environmental hazards and lessen the impact of future disasters."
For the training, which Case says "covered everything from basic to the latest in engine technology, controls and equipment management," Team Rubicon brought in a group of 18 experienced operators from all over the U.S.
The U.S. Fish and Wildlife Service led the exercises and by the end of the project, Rubicon members were certified to assist the National Wildlife Refuge System on future projects.
"Public parks and recreational areas are a critical and often overlooked part of American infrastructure," said Brian Weisbaum, project manager for Case's Dire States initiative. "Refuges and green spaces like Laguna Atascosa are important for wildlife habitat preservation while also bringing in billions of dollars nationally to the American economy via tourism and support."