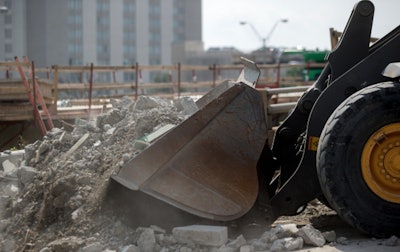 With the turn of his bucket, a brave wheel loader operator recently put an end to a high-speed chase following a traffic stop in Minnesota.
According to a report from KAAL TV, a Mower County Sheriff's deputy pulled over 45-year-old Jerry Castilleja on Interstate 90 on the morning of September 18 for not wearing his seat belt. Suddenly, Castilleja sped away from the deputy, starting a chase through the city of Brownsdale that caused damage to several patrol cars.
Deputies say Castilleja reached speeds up to 103 miles per hour during the chase, which likely would have been abandoned by the deputies were it not for the heroics of Richard Olsen.
Olsen was operating a loader as part of a crew making repairs to Main Street in the town of Blooming Prairie when he saw Castilleja's red Dodge.
"He was moving pretty fast, and then I saw the state troopers behind him with all their lights on," he told KAAL. "So I just pulled up in between the vehicles to where he couldn't get through, and he tried to scoot around me and I just turned my bucket to the side and he ran into the side of my bucket."
Castilleja crashed and was arrested outside of an elementary school. Deputies told the station that as they neared the elementary school they were discussing calling the chase off as to not endanger any children in the area.
Castilleja likely "faces charges of fleeing, assault, and numerous other driving violations," KAAL reports.