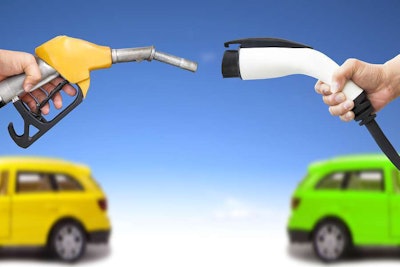 With road-legal self-driving trucks and an economically-feasible way to harness solar energy and go off the power grid being a part of our present and no longer possibilities of a far-off future, we got to thinking: what's the fuel of the future going to be?
Electricity sure seems to be making a pretty strong case with Tesla founder and CEO Elon Musk delivering one heck of a keynote in the introduction of Powerwall, a $3,500 battery that can power your home and electric car. Beyond the product, Musk is confident that harnessing solar energy and storing it in giant batteries like the ones his company is developing is not only possible but the way the future will be powered.
On the other hand, diesel has made quite the comeback in recent years. The majority of the buzz in the half-ton and midsize pickup truck segments has been devoted to diesel engines, flames stoked by the insane gas mileage achieved by Ram's EcoDiesel 1500 and likely even more so as we await GM's diesel Chevrolet Colorado and GMC Canyon.
And beyond excitement around the energy-dense diesel in its current form, Audi recently made headlines with the development of a new form of diesel made from water and CO2. It's expensive right now, but its a powerful fuel made from renewable resources.
And let's not forget about hydrogen. At one point, this was the frontrunner for fuel of the future. But in the last few years it's gained many critics due to the expense of development and the bulkiness of the refueling methods that have been devised. However, JCB doesn't seem to think hydrogen is dead just yet as it recently acquired a hydrogen fuel cell company, possibly pointing to hydrogen fueled heavy equipment at some point in the near future.
So what do you think? Which of these fuels will win out? Will we all be driven around around in autonomous cars like Chevy's FNR concept? Or do you see us still driving ourselves and fueling up primarily with good 'ol gasoline 10 years down the line? Let us know in the poll below.