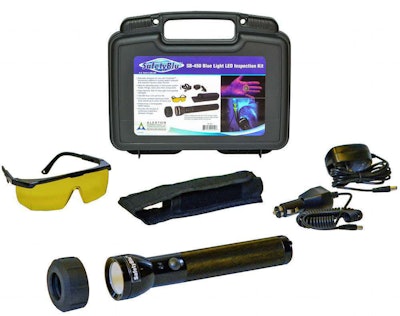 High-pressure lines are one of the most dangerous components in any shop.
Crack open the wrong hydraulic fitting (and that's any fitting under pressure) and the resulting jet of hydraulic fluid can strip away flesh and penetrate deep under the skin. If enough of the fluid gets into the blood stream it can kill the victim in minutes.
Alerton International has developed a kit to reduce the chances of this happening and help medical personnel diagnose a hydraulic injury.
The SafetyBlu SB-450 Blue Light Inspection Kit has a blue-light LED flashlight that when used in conjunction with the company's FluidSafe fluorescent additive can locate hydraulic fluid leaks before they're visible to the naked eye. Under the high-intensity light any leaking hydraulic fluid will glow, enabling technicians to quickly track down leaks on hoses, fittings, seals and other components.
In the event of a fluid injection that penetrates the skin, the light can be used to pinpoint the location of the injection and determine the extent of the injury. The light is powered by a rechargeable battery and the kit comes with rechargers and fluorescence-enhancing glasses.