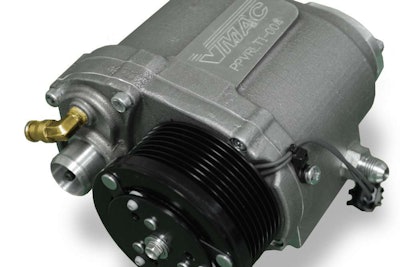 In the last few years work vans have surged in popularity thanks to dozens of new contractor focused designs. But when it comes to vans and portable, gas-engine air compressors don't mix. Wheeled units displace a lot of cargo or tools, and carrying any gas-powered equipment inside a van is a safety hazard and a good way to asphyxiate yourself.
So nobody does it. If you want to carry an air compressor, you use a truck.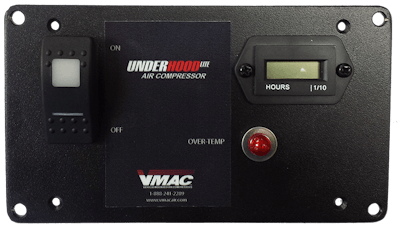 VMAC's solution for vans that solves all these problems. The company makes engine-driven air compressors that fit under the hood of trucks, and recently jumped into the van market with the introduction of a new rotary-screw air compressor designed for European style vans.
The new Underhood Lite air compressor provides 30 cfm and up to 150 psi of air–enough to run a 1/2-inch impact wrench. The 62-pound unit is driven off the van's serpentine belt and with a small footprint easily fits within the engine bay. The oil-injected, rotary screw design eliminates the need for an air storage tank by providing a continuous stream of air.
Custom engineered for each different engine and chassis configuration the installation kits for the Underhood Lite will fit the 3.6-liter Ram ProMaster, 3.7L Ford Transit and the 3.0L Mercedes-Benz Sprinter.
For safety, the compressor has a thermal protection circuit, a 200-psi over-pressure safety valve and lockouts so that the parking brake has to be engaged and the truck in park for the compressor to start.