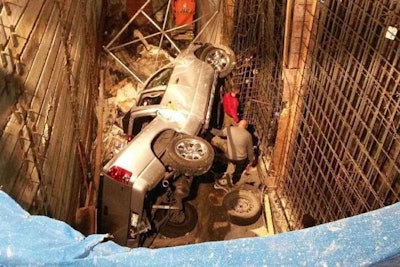 Police suspect alcohol played a factor as a pickup truck swerved off the road in Houston and crashed into a construction jobsite this past weekend, eventually ending up at the bottom of a pit.
According to a report from KHOU (published on the WFAA TV website), witnesses told police they saw the truck run several red lights before hitting another vehicle and slamming through a fence into the jobsite of a high-rise building off of Louisiana and Preston Streets around 2 a.m. Sunday.
The truck plummeted more than 25 feet into a pit on the jobsite. Nearby witnesses jumped into the pit to make sure the driver was OK and found him unconscious. One of the witnesses woke the driver up.
In addition to pulling the driver from the pit, Houston firefighters had to help all of the witnesses who jumped in after the driver out as well, KHOU reports.