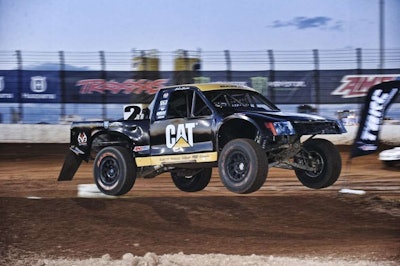 [imagebrowser id=110]
Though the machines it sells are known more for their brawn than their speed, motorsports are nothing new at Caterpillar. For decades, Cat Racing has fielded a car in NASCAR races and has a strong driver behind the wheel of the no. 31 Caterpillar Chevrolet in Ryan Newman.
But very recently, the company got the opportunity to enter a motorsport that embodies everything it's about. In May it was announced that not only would there be a Cat truck racing in The Off-Road Championship's 2014 season—a short-course, off-road racing series—but TORC is now using Cat machines to build and maintenance the tracks.
"What really draws you to these races is that the core of it all is dirt. And that's the core for Caterpillar—dirt," says Cat's national association manager Jason Becker. "Getting in the dirt and building something. Durability. All of the things our company stands for, this sport really is. In this case, it's rough, it's engines, it's what our customers really love to do."
Becker says Cat's involvement in TORC came together rather quickly. In April, another TORC sponsor suggested to Becker that Cat seriously consider getting involved with the sport. "I said the sport looks really interesting but the key to it all was that they use equipment and need equipment to maintain these tracks," he recalled.
The machines
On a race day, Becker says a TORC event can host as many as 10 races. The races only last about 20 or 30 minutes, but pack a lot of action. The trucks go airborne often and the speed, loose soil and contact amount to quite a bit of carnage with pieces of trucks flying and a lot of dirt to be rearranged on the track in between races. And everything usually has to be ready to go again in as little as eight to 10 minutes, Becker says.
Becker says that in the past as the crew traveled from event to event, the TORC equipment operators couldn't expect much in the way of consistency when it came to the machines they would be driving in between each race. He says that usually TORC would depend on what machines the host venue had or what they could rent in the area.
Now, Cat machines are provided by Cat dealers near each TORC event. TORC operators employ Cat 120M and 140M motor graders (sometimes as many as four at a time are going to reset the track), D5K2 dozers, 938 wheel loaders and 289 and 299 compact track loaders, Becker says. "The people that do the track work say this is the best deal they've had by far," he says. "Telehandlers are always there too and sometimes they will have to use them to tip trucks over or haul them away. They're also used to position guard rails at the tracks."
The truck
Becker says the equipment deal was Cat's primary interest in the sport initially. In fact, the no. 2 Cat truck, driven by TORC veteran Steve Barlow in the PRO 2 (two-wheel drive) division, almost didn't happen. However, after hearing from a few of their new fellow TORC sponsors, Cat decided to throw its hat into the races as well.
"The truck side of it, we didn't think we would (sponsor) a truck. However, there is something very special about having a Cat truck for our customers to cheer for at the events—as we host customers and prospects at each race with our local dealers," Becker explains. "Most customers have said that when there's a Cat truck on the course, it's a completely different experience."
The Cat TORC team has even seen success early. In six races thus far this year, Barlow and the no.2 Cat truck have finished in the top three in three races. In one of the races, we sent home the hood of the Cat truck with a customer to hang in their shop. In fact, Barlow's third-place finish on June 28 in the PRO 2 race at Crandon International Off-Road Raceway in Wisconsin was his third-straight podium finish. Becker says the hood of the Cat truck was cracked during the race that day and a lucky Cat customer in attendance got to take it home. "You'd have thought he had had a newborn baby," Becker says.
Building Buffalo Chip
And while Barlow looks to keep the Cat truck on the podium for the remaining three races in the TORC season, Cat machines are already at work building a track from scratch for the Battle at the Chip in Sturgis, South Dakota scheduled for August 5-6.
According to a June blog post from TORC, Cat dozers were carving the track out of a hillside near the famed Buffalo Chip Saloon and Steakhouse. The track is "wide and rough," featuring a unique design as the only one on the TORC tour with a line-up start, forcing drivers to jockey for position before they head into the first turn. The track has also been designed to follow the natural terrain of the hills in Sturgis making for big jumps and fast turns.
And Becker says thanks to the new partnership, TORC track designers' jobs were made much easier thanks to Cat technology including the AccuGrade grade control system.
"For Sturgis we have GPS mapped out the entire circuit. We put their plan on GPS so now they can put a guy on a dozer and because of the AccuGrade system he'll know where the grade is and what slope he's supposed to be working on," Becker says. "A lot of these tracks they'd like to replicate and they've never had the ability to say here's the track, load it into the technology and know exactly what we need to do to make the truck jump 200 feet or land on its side a bit on a hill."
In addition to hosting TORC races, the track will also host motocross races, AMA Extreme Dirt Track ATV races, the Nitro Pro Hill Climb and tractor pulls.