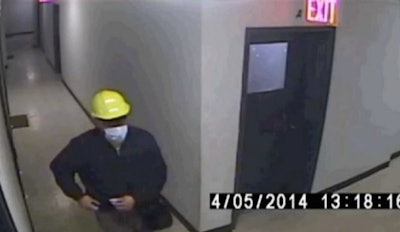 In the Queens borough of New York City, police are looking for a purse snatcher who disguised himself as a construction worker.
According to a report from NBC New York, the man disguised himself wearing a hard hat and tool bag and covered his face with a surgical mask. Surveillance video in the victim's apartment building caught the man stalking around.
The man followed a 71-year-old woman into an elevator and then on to her apartment. He pushed her inside and ran off with her purse. The woman broke her leg in the attack and was taken to a hospital for treatment.
It's unclear why the man would choose such a disguise. There's no mention of a nearby construction site so it might have been simply to mask his identity with a common uniform.
The New York Police Department is asking anyone with information on the incident or the attacker to call their Crime Stoppers Hotline at 1-800-577-TIPS.