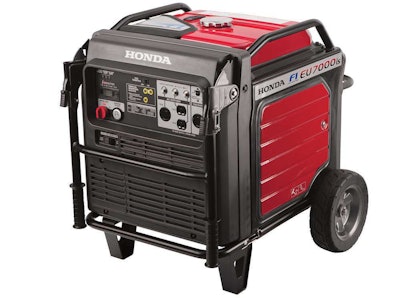 Honda announced an all-new EU7000is portable generator with electronic fuel injection at World of Concrete Tuesday.
The EFI technology brings a host of benefits including better fuel efficiency, electric starts without a choke, and longer run times.
With a 5.1 gallon fuel tank the new generator can run six hours a rated load or an estimated 18 hours at 1/4 load. Maximum output is 7,000 VA (volt-amperes) and rated output is 5,500 VA. It weighs 262 pounds without fuel, and Honda is pitching it for commercial applications as well as home-backup power, camping and tailgaiting.
Honda's inverter technology, introduced in 1999, creates clean electrical output that protects sensitive electronics from fluctuating outputs which can damage computers, appliances and equipment. The inverter technology also lowers the weight and reduces noise. The EU7000is generates only 60 dB at rated load.
The EU7000is also has the unique ability to be combined in tandem with another unit to run in parallel when contractors need to double their power.