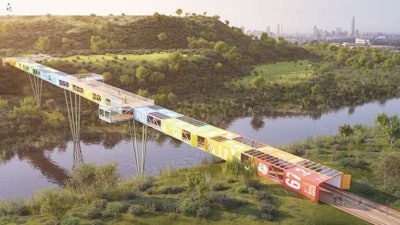 Work will soon begin on a bridge made of shipping containers. Designed by Israeli firm Yoav Messer Architects, the project has been named "ECOntainer bridge" and will be located in the Ariel Shannon nature conserve, Designboom reports.
The pieces that make up the bridge will be assembled offsite, with a steel truss being attached to the containers as the bridge's main structure.
But Lloyd Alter over at Treehugger raises some good points about whether or not this is truly good design. "But can you call cutting out walls, engineering the boxes into trusses, and welding four 40-footers into a span "fast and easy" compared to building a box truss from scratch that is actually the length of the span between supports?"
What do you think? Let us know in the comments below.