Photo taken by and caption contributed by Sarah A. Ausprich on Aug. 28, 2011, at 5:37 p.m. ET. Ausprich, a journalist who lives on the East Coast, endured the storm.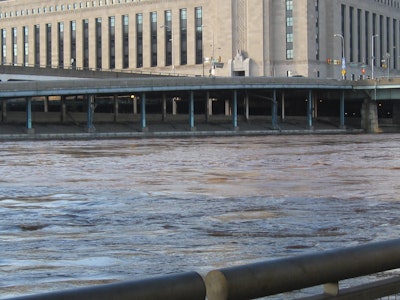 A swollen Schuylkill River flows past Interstate Route 76, just south of the Walnut Street Bridge in Philadelphia, on Sunday, August 28, 2011. The Schuylkill River Park, on the east side of the river, was flooded early in the day, but the water started to recede after cresting at 13.56 feet at 2:30 p.m. ET, according to the National Weather Service.
Flooding and storm damage, including power outages and uprooted trees, plagued Philadelphia as Hurricane Irene passed through the area. The storm was also blamed for the collapse of seven buildings,. No injuries were reported. Philadelphia and the surrounding region got more than six inches of rain overnight, water-logging an already sodden part of the state that is in record territory for rainfall in August.
Heavy rain and high winds swept into South Jersey and Southeastern Pennsylvania Saturday afternoon, ahead of Hurricane Irene, leading Philadelphia officials to declare a state of emergency for the first time since 1986.