Case Construction
Driven by higher volumes in South America and despite challenges with higher freight and raw materials costs, sales for construction and agricultural equipment manufacturer CNH Industrial increased year-over-year in 2022 by 21% to $21.5 billion.
CEO Scott Wine said the company's construction division saw a 2022 Q4 increase of 16% to $983 million with strong momentum from the Sampierana integration, manufacturing improvements and enhanced customer focus.
The company's portfolio of construction equipment is sold under three brands: Case Construction Equipment, New Holland Construction, and most recently, Eurocomach, part of the portfolio acquired with Sampierana.
He noted that sales for the year were also up 16% within the construction division with noteworthy growth in Europe and South America.
"Organic growth accounted for about two-thirds of the increase with the remainder attributed to Sampierana," Wine said. "Their excavator portfolio and technology innovations have enhanced our ability to meet customer needs, and their Eurocomach platforms provide an outstanding foundation for electrification."
In the third quarter, CNH started selling Sampierana compact excavators in Europe under the Case and New Holland brands, opening a new assembly line to increase the capacity for those products, which it will begin exporting to other regions in 2023.
Also, in late August 2022, Case launched the Minotaur DL550, a new equipment category, the compact dozer-loader.
Wine said global industry volume for construction equipment decreased in both heavy and light sub-segments in Q4, with both being down 2%, driven by a 9% decrease in light and heavy equipment demand for South America and a 6% decrease in North America. There was a 1% increase noted in the Asia Pacific region, particularly in China. Demand increased by 1% in Europe, Middle East and Africa.
"Overall demand continues to outstrip the industry's ability to supply, at least in the near term, which despite record sales has dampened industry levels," Wine said.
In construction, he said, global demand is trending lower, and CNH expects residential and commercial markets in North America and Europe to decline in 2023 due to rising interest rates. However, Wine said the anticipation is that public construction may fill in many of those gaps as spending from the U.S. infrastructure law ramps up.
In Europe and South America, construction markets are expected to be down in reaction to the overall macro environment.
"South America was very strong for construction last year, and we don't expect that to repeat," Wine said. "From a construction viewpoint, that market will be lighter than last year. Overall, it is going to be a positive year."
Within the light and compact construction equipment, he said, there has been good progress with Sampierana, and the markets are expected to expand.
"We expect net sales and industrial activities to increase 6 to 10%," he said. "With confidence in the stickiness of our 2022 price increases, we expect to build on our margin gains by taking more cost out of our system. We are committed to growing market share, and we have the products, brands and dealer network to do just that."
Returning to full production at the company's North American plants will play a role.
The CEO only made a brief reference to any challenges the company faced relating to the eight-month strike that recently concluded at two of the company's North American plants. Nearly 1,100 workers at plants in Racine, Wisconsin, and Burlington, Iowa, were on strike from May 2, 2022, to January 21, 2023.
The employees approved the "last, best and final offer" presented by CNH Industrial after a mediation session conducted by U.S. Secretary of Labor Martin Walsh.
"We're happy to have finally secured a contract with the UAW," Wine said last month. "The agreement we reached is fair for our employees and sustainable for the company. Employees returned to work this week, and we expect the two affected plants to ramp up to full production in the coming months."
Both the Burlington and Racine CNH facilities remained operational throughout the strike. CNH brought in a temporary workforce within days of the strike to ensure the plants continued to operate
"I would like to thank our bargaining team, the UAW leadership and Mr. Walsh, who helped us navigate the complexities of the negotiation process and end the strike," Wine said.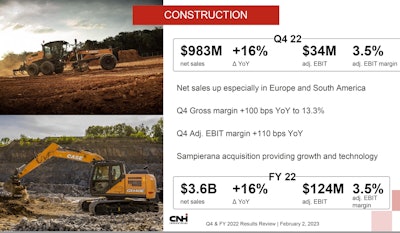 Looking ahead, Wine said the uncertain macro environment toward the end of 2023 requires vigilance as CNH strives to support its customers, dealers, suppliers and employees.
"While the pace of investment inflation is slowing, it is still inflation, and we expect it to have an impact in 2023," he said.
While there have been reductions in some areas, overall, the cost of production is not coming down. The CEO acknowledged that the company's inability to deliver promptly in much of 2022 had an impact on its overall market share. Across multiple manufacturing facilities, construction and agriculture machines were sitting incomplete, waiting for missing components. However, he said, many of those machines were delivered in the latter half of 2022.
Within the construction division, the specific challenge was serving the dealers with heavy excavators.
"We're working diligently to improve that, so you know that that's a significant opportunity for us," Wine said. "The construction business and backlog are quite good despite a difficult overall environment. We had so many limitations last year, in our ability to produce that that business is reasonably good."
While many dealers are below historical levels and likely even below where most of them would like to be with inventory, the CEO said the intent is to catch up. "Overall, we feel there's just a tremendous opportunity for us to keep our factories running and produce for retail customers at this point and possibly at the end of the year start to get dealer inventories 'back.'"
However, he emphasized that by "back" he meant to "acceptable levels" and not a return to "historical levels."
"We'd like to keep inventory relatively lean," Wine said. "It's careful balancing there because you're running as fast as you can to provide shipments in a market that is going to slow down at some point."
The CEO said CNH is not looking to push a lot more dealer inventory. "Our goal and part of what we're watching for is to make sure we protect dealer inventories going into 2024. It's making sure we balance the cost-price equation – and you've seen from our history, we're good at doing that – but also to ensure that we can deliver when we say we're going to deliver if we open up the books."
To date, CNH has not opened the books for Q4 in some markets, as they are still allocating.
"2022 was a year of price, and 2023 is going to be a year of cost," Wine said. "I don't want to be a pessimist, but I just think 2024 could be a more difficult year."