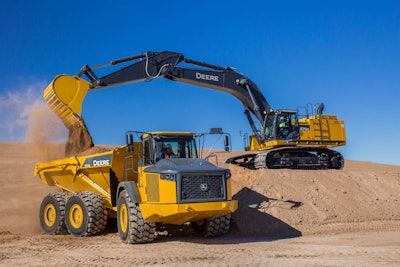 John Deere has announced that it is partnering with HCSS, maker of Heavy Bid and other construction software products, to enhance the capabilities of Deere's WorkSight telematics machine reporting system.
Most contractors will know HCSS from their popular back-office software systems, but in recent months the company has made substantial inroads into the telematics business.
This spring the company debuted their Telematics Integration Services, which automatically pulls in machine data from multiple brands of machines in a mixed fleet environment and enables you to see all of your telematics reporting without having to go to multiple OEM websites.
The Deere partnership with HCSS will integrate JDLink data into HCSS OEM Link, allowing customers to see Deere equipment alongside that of other brands in one location. The graphic below gives a breakdown of how the integration works.
"Our partnership with HCSS empowers customers to leverage the existing telematics connection on their John Deere equipment and see their JDLink machine data in the powerful HCSS tool suite in conjunction with other telematics brands," said Liz Quinn, product marketing manager, John Deere WorkSight. "In addition, customers will be able to easily link from the HCSS application to the MyJohnDeere.com environment when they need to order parts, manuals, or have a closer look at a John Deere machine in the JDLink Dashboard."
According to Deere, the partnership is an outgrowth of the work done by the Association of Equipment Management Professionals (AEMP) which has been working for several years to create a single, universal telematics reporting standard for heavy equipment and trucks.
Deere selected HCSS based on the company's compatibility with its WorkSight technology. HCSS has also been working at an alpha tester of JDLink's Machine Data API (AEMP 2.0) scheduled to be launched as an ISO spec later this year.
Earlier this year, Deere competitor Caterpillar unveiled a redesigned version of its VisionLink telematics dashboard. Developed in partnership with Trimble using AEMP Telematics Standard version 1.2, the new VisionLink displays Cat machine data alongside information from both third-party machine manufacturers and telematics hardware makers.