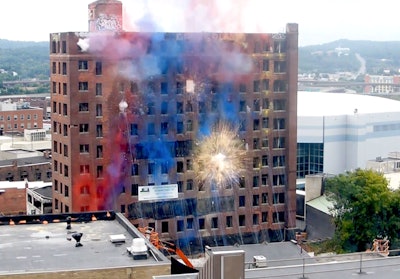 Residents of Albany, New York were already excited to see a dilapidated hotel from the 1920s make way for a new convention center. But the deal was definitely sweetened when the city was treated to a full on fireworks display as part of the 11-story building's demolition.
As you can see in the video below, the building has been rigged with a ton of fireworks as well as plumes of colorful smoke that at one point spell out "J + J." According to the Albany Business Review, the fireworks display was designed by Grucci Fireworks of Long Island. Grucci has also designed the Fourth of July show for New York City harbor. The smoke spelling out "J + J" stood for the names of the convention center's developer Joe Nicolla and his wife Jessica.
The new convention center has a budget of $66.5 million and has been in the works for the last 20 years. Don't miss the show below.