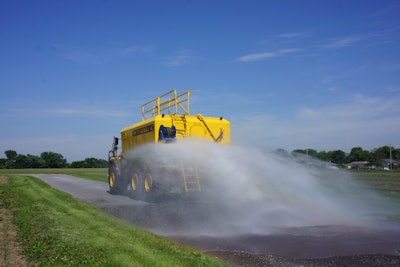 Philippi-Hagenbuch
Don't put your old haul truck out to pasture just yet. It can have a second life as a water truck by replacing the dump bed with a new Philippi-Hagenbuch HiVol Water Tank.
Built with high-grade steel and a stable square design, Philippi-Hagenbuch says the HiVol tanks are engineered to haul the greatest possible volume of water for the specific make and model of off-highway articulated or rigid frame truck. The square design, along with the internal side-surge stabilizers and a baffling system, lowers the center of gravity, allowing the truck to safely haul up to 60,000 gallons of water with minimal churning.
The tanks, which were showcased at ConExpo 2023, feature operator-friendly controls and the ability to spray the entire width of a haul road in one pass. The rear-mounted spray heads and optional remote-controlled water cannon are controlled via individual in-cab analog controls. The horizontal spray heads operate separately, allowing operators to use any or all spray heads simultaneously. The remote-controlled water cannon can spray water from 150 to 200 feet away.
Full-sized exterior and interior access doors and access points at the top of the tank allow for easy maintenance. All interior doors include rustproof pivots and allow unobstructed flow of clean air and natural light throughout the tank. The tank's flat-top design makes it easy for personnel to walk on when they are required to access the top of the unit.
Tanks can be ordered with corrosion-resistant Hardox 450 steel or optional Hardox HiAce acidic-resistant steel for highly acidic environments. Philippi-Hagenbuch also offers an insulated water tank for cold weather conditions, with optional heating for temperatures as cold as -40 degrees Fahrenheit.
"After more than 23 years on the market, none of our water tanks are showing signs of rust, corrosion or failure," said Josh Swank, Philippi-Hagenbuch vice president of sales and marketing. "The high-quality steel ensures they won't rust or wear down quickly. Most water tanks on the market only last 5-7 years, but the first water tanks we engineered are still out on the jobsite today."