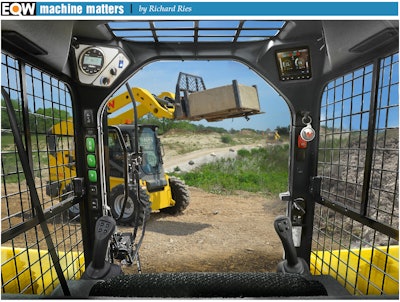 Wacker Neuson uses its All Access design theme on its skid steers, including the SW32 (shown). Features include improved service access with a cab that can be tilted forward even with the loader arms down and a wide rear door that provides easy access to daily check and PM points. The large entrance door and convenient step enhance access to the cab where a full-feature safety belt replaces the restrictive lap bar.
Skid steer technology levels up
"It wasn't that many years ago, skid steers had open cabs and mechanical levers," says Kevin Coleman, Cat product specialist for skid steers. "They were utility machines. The idea of an enclosed cab with heat and air conditioning and electro-hydraulic joysticks would have seemed laughable. Now those are standard features. Today's technology is the next step in that evolution."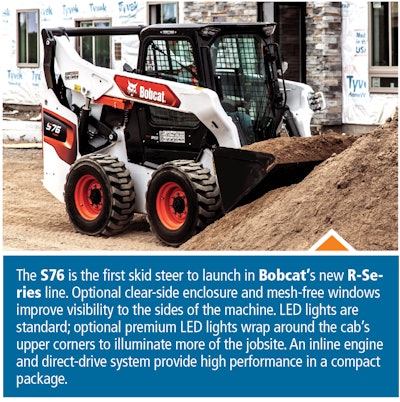 Cat's big technology advance centers around its SMART technology, which enables the skid steer to recognize the attachment and automatically match the performance of the two pieces. The monitor will display information specific to the attachment. Default operation of the joysticks will switch from controlling the skid steer to controlling the attachment. All D3 skid steers are equipped with SMART technology.
The first two SMART tools, a six-way dozer blade and a backhoe attachment, arrived in April, and the third, a grader blade, arrived in June. Are others coming? "We look at attachments on a piece-by-piece basis," says Tharen Peterson, Cat product application specialist for attachments. "Attachments are cost-sensitive, so the question is, does the inclusion of SMART technology bring sufficient additional value to this attachment to warrant the higher initial investment?"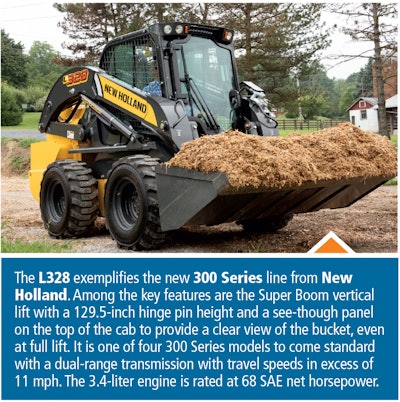 Coleman points out the versatility of SMART technology. "It's not a single package or a factory order. All D3 skid steers will work with all SMART attachments." He also notes that no alterations were made in the basic design of the skid steer to enable SMART technology. "No changes were required for the hydraulics or engines. It's all done with technology and software."
New technologies deliver a torrent of operational data. Accessing and using that information can be daunting due to the sheer volume provided. Bobcat Machine IQ, available on R-Series compact loaders, helps with information management.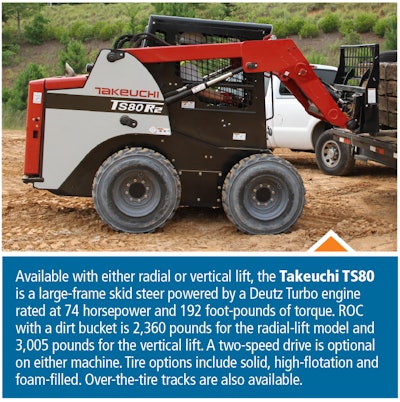 Sensors throughout the machine provide detailed information wirelessly via the Bobcat Owner Portal, a personalized website for owners and operators. The information is also sent to the dealer. Tyler Zima, Bobcat loader product specialist, says this more efficient handling of information increases uptime and improves service efficiency if a field service technician is required to correct an issue.
Chicken or egg? Both.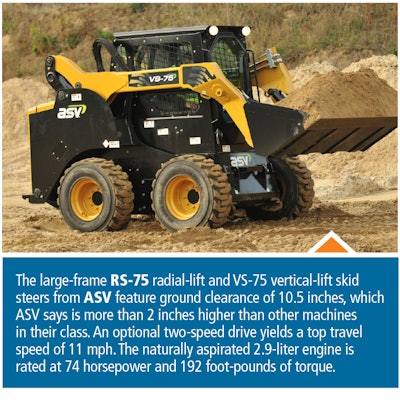 Which came first, the more capable machines or the more demanding attachments? This was not serial development, with one preceding the other. Attachments and skid steers grew up together.
Part of the new appreciation for skid steers comes with their utilization rate, and one way to boost utilization is to enable more applications. "New opportunities are made with new technology, larger machines and additional attachments," says Ryan Anderson, New Holland skid steer marketing manager. "Mulching is big. Snow removal has really taken off and provides revenue during a large part of the year for many landscapers who would otherwise be left idle. Site prep and land clearing are growing applications for skid steers."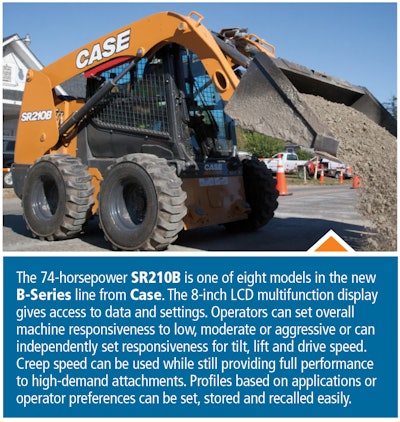 Skid steers don't have to be configured for high-demand attachments, but often are. "High-flow auxiliary circuits are a value-added upgrade that many customers choose and make their machines suitable for more than just grading and digging," says Lee Padgett, product manager at Takeuchi-US.
The radial-lift TS80R2 and vertical-lift TS80V2 models can provide up to 31 gallons per minute. "The initial investment is a bit more," says Padgett, "but the return on investment offered by high-flow auxiliaries soon outweighs that higher startup cost."
And even with the higher front-end cost, high-performance skid steers are economical first machines for new contractors, with low O&O costs, high productivity potential and good residual value.
In their role as prime movers, skid steers often use multiple attachments on the same job or even in the same day, which is why changing attachments easily is the point of Bob-Dock, Bobcat's attachment mounting system.
Zima describes Bob-Dock as "the ultimate time saver," allowing hydraulic attachments to be changed from the cab. The system automatically connects hydraulic lines, and removing an attachment requires only the press of a switch.
Bobcat skid steers can be spec'ed with the company's new Dual-Direction Bucket Positioning feature that keeps the load at a consistent angle throughout the lift cycle. The feature works in both up and down boom functions to reduce spillage, increase efficiency and improve ease of operation. "Dual-Direction Bucket Positioning is especially valuable during truck loading applications," says Zima.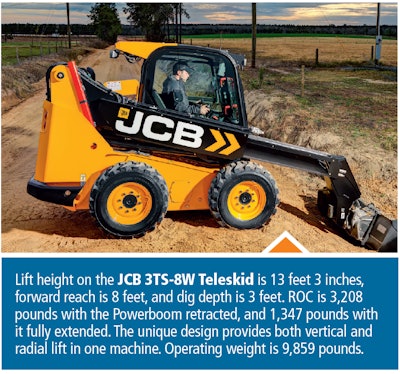 Recognizing that not all skid steer customers want the full complement of technology, Gehl continues to offer pilot joystick controls on most of its models. "Electric-over-hydraulic controls do have unique features," says Brian Rabe, regional training manager of Manitou North America. "But Gehl operators strongly prefer the response and accurate inputs our pilot control system offers."
For those customers who run attachments with separate hydraulic function controls, Gehl offers an integrated attachment control with a 14-pin electrical connector that replaces the standard joystick. The option provides six additional attachment functions that can be customized to suit operator preference.
Gehl's Power-Attach system is optional. As with all such systems, it allows easy attachment exchange from the operator's seat. It also has a warming feature that recirculates oil in the circuit to keep it at operating temperature. This ensures full attachment performance from the start in cold weather.
A bigger byte
Computing power has come a long way from the early days of the CAN bus.
Tell a potential customer the new skid steer being considered has telematics, and the response may well be, "Yeah, so what?" It's like saying, "It comes with a seat." A minimum level of computing power is assumed to be part of any modern piece of equipment, and over the years, that expectation level has risen.
Manufacturers strive to deliver. The 5.7-inch color monitor on Wacker Neuson skid steers displays vital operating information but also allows customization of the responsiveness of controls, along with the setup of user permissions and job clocks.
Diagnostic codes are shown there, and software improvements to diagnostics "are revolutionary compared to five years ago," says Nathan Ryan, product manager of skid steer and compact track loaders with Wacker Neuson. "Machines now diagnose their own problems, inform the operators of any issues and, if so equipped, even alert the dealer for improved service efficiency."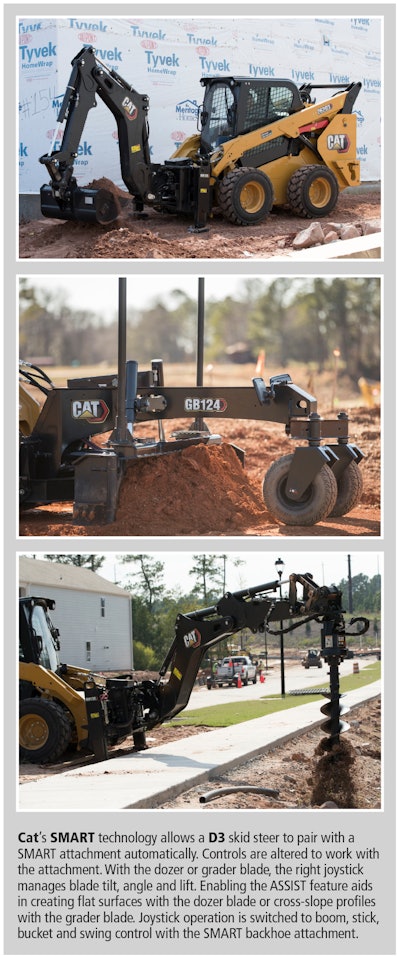 Real-time diagnostics are just part of what software is doing behind the scenes. "Software has also improved operator and machine safety," says Ryan, "such as ensuring that all qualifications are complete before allowing the machine to work." Examples include checking that doors are shut, safety belts are latched, and glow plugs and hydraulic oil are at optimal temperature.
The list of tech features on New Holland skid steers includes such popular items as Economy mode and Auto-off. Ignition time-out shuts off power if the engine is shut down but the key is left in the On position.
For those who would balk at the cost of advanced technology, Anderson offers three factors to include in the value equation. First, technology supports higher utilization rates by enabling the use of more diverse attachments and encouraging more efficient use of the machine.
Second, the level of information now readily available makes it easier to calculate hour-by-hour costs, "which is what successful contractors do." Third, while the technology itself does not introduce an increase in ongoing costs, the addition of more attachments will do that because of the attendant addition of more hoses, couplings, valves and so on.
Are you comfy?
The day of the fully autonomous worksite is surely coming, but as long as we still need humans in the cabs operating the equipment, they may as well be comfortable. Many R&D dollars have been spent developing technology to enhance operator comfort.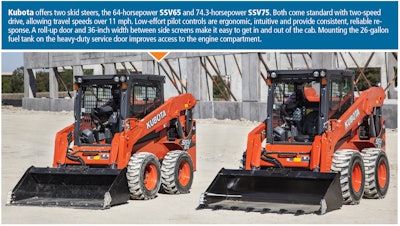 "Technology surrounding operator comfort is a trending area," says Gregg Zupancic, skid steer product marketing manager at John Deere. "Operators want to be comfortable and confident they can work through any conditions without sacrificing safety." Zupancic also notes that comfortable operators stay fresh longer, and that can increase productivity.
Zupancic cites examples of comfort features on the 314G. Control levers have improved ergonomics. Air conditioning ducts are optimized, and the pressurized cab keeps out debris. An optional rearview camera and easy-to-clean cab glass improve visibility. Small-model cabs also include a new Bluetooth radio option for streaming media.
Physical comfort is not all that's being considered. OEMs want operators to be psychologically and emotionally comfortable, too.
"With Case B Series skid steers, the greatest amount of technological advancement has been on the operator environment and interface," says Brad Stemper, director of compact construction equipment at Case.
The new 8-inch LCD screens provide a wealth of information, Stemper says, and "the access to a deeper and more intuitive set of data at the point of operation gives operators a greater sense of ownership of that machine…and lets them be proactive as it relates to machine health and upkeep."
Buy-in and being proactive are important traits, as well as improving communication within an organization. "The new and more practical way of communicating fault codes and alerts makes it easier for the operator to communicate back to their fleet manager or their dealer service department the nature of a possible fault or downtime event," says Stemper. The result is more timely and efficient servicing, reduced downtime and better teamwork.