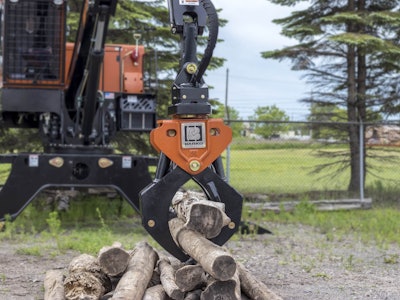 Barko's new Strong-Arm Grapples are designed to optimize log handling and delimbing performance on its new lineup of B-Series loaders with high rotator torque, clamping force and arm speed.
The Strong-Arm lineup is made up of three models: the 4250, 4850 and 5250, which have maximum openings of 42, 48.1 and 52.1 inches, respectively. Each grapple is rated for up to 50,000 pounds of lift capacity and features 360-degree continuous rotation and a fully supported rotator drive pinion gear.
Barko says the grapples feature a compact rotator which allows for hoses to be contained in a single bundle between the boom and grapple, providing better hose protection.
The company notes that it has minimized hydraulic flow restriction in the hydraulic motor on these new models. The result is higher horsepower efficiency, and more productivity while maintaining "excellent" fuel economy, Barko says.
The grapples are constructed of high tensile, wear-resistant steel with hard face welding on the arm tips for extended working life. Induction-hardened pins reduce wear on the pins and bushings, and cushioned cylinders eliminate jarring effects at maximum open and close. Thick cylinder walls provide further durability.
Twelve grease points are easily accessible, and the grapples include four convenient inspection plates for the grapple collector and hoses.
Barko Strong-Arm grapples are designed for seamless integration with Barko B-Series loaders, including all trailer/truck mount, tracked, rough terrain carrier and stationary models.