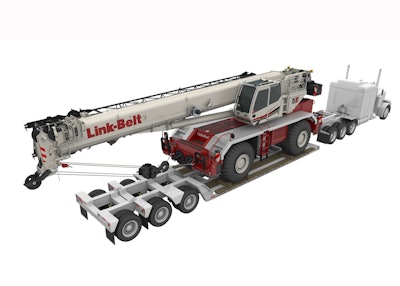 Calling it the "next generation of the rough terrain crane," Link-Belt has introduced the 75RT, a machine featuring the company's updated crane operating system, a new cab and a new system that assists operators in confined areas.
Powered by a Cummins Tier 4 Final QSB 6.7-liter engine producing 270 horsepower, the 75RT transports fully loaded with counterweight under 100,000 pounds and under 90,000 pounds without counterweight.
The 75RT features a five-section 38-145-foot boom with two extend modes: EM1 and EM2. A two-piece (35-58 ft.) and three-piece bi-folding fly (10-35-58 ft.) are both available for a tip height of 208.7 feet. The crane's matching main and auxiliary winches offer 18,603 pounds of maximum line pull and a maximum winch speed of 485 feet per minute.
The crane's standout features center around technology and operator comfort.
The RT75 runs Pulse 2.0, the new generation of Link-Belt's crane operating system. Featuring programmable features, a WiFi hub and a new, larger 10-inch display, Pulse 2.0 also allows the crane's software to be updated and serviced remotely.
The crane is also Link-Belt's first to feature V-CALC or Variable Confined Area Lifting Capabilities. Here's Link-Belt's explanation of V-CALC:
"This new feature provides more selectable outrigger configurations by allowing outrigger beams (either fully retracted, intermediate or fully extended) to be setup in pairs either from side-to-side or front-to-rear. Once outriggers are set, the Pulse 2.0 system provides an outrigger configuration which provides different previews representing workable areas, indicating a percentage of the crane's available capacity. The system also previews the next five radiuses for that given boom angle. Upon selection, Link-Belt Pulse 2.0 will provide a live view of the work area."
Operators will also appreciate the RT75's new cab. In addition to the new Pulse touchscreen display, the new cab design boosts visibility by 20 percent, Link-Belt says, and brings the following upgrades:
♦ Bluetooth AM/FM radio
♦ Larger, ergonomical seat with new electronic joystick/single axis controllers
♦ HVAC system cold/heat box tested to automotive standards
♦ Increased storage and interior lighting
♦ Time delayed wipers
♦ USB and 12 volt power supply connections
♦ Van-style pop out door
♦ Variable outrigger charts integrated into the RCL
♦ Engine off RCL display stays booted up
Link-Belt says all electrical and hydraulic components coming into the cab are bulk headed for plug and play assembly. An available camera vision package enhances on-board site monitoring and includes cameras for viewing to the right side of the upper, the main and auxiliary winch, as well as one for backing up.
The electrical system has also been upgraded from 12 to 24 volts with a Controller Area Network (CAN bus) wiring system. Link-Belt says the increased voltage "allows the system to multiplex with modules placed near dedicated functional like outrigger beams and winches. In total, there are five modules located throughout the machine that allow for crane functions to continue working in instances where other modules are being diagnosed or serviced."