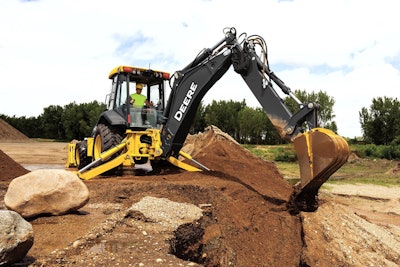 In bringing its largest backhoe into the L Series fold, John Deere has implemented several updates into the new 710, including a sizable boost in power.
The 710L is the latest backhoe to join the L Series, introduced in April 2015, and is powered by a Tier 4 Final Deere PowerTech Plus engine providing 148 horsepower—13 percent more than its K Series predecessor.
The 710 provides the deepest dig depth in the L Series lineup at 17 feet, 3 inches. The machine also the highest lift capacity among Deere's backhoe lineup at 9,866 pounds. The next step down in the lineup, the 410L provides 7,149 pounds of capacity.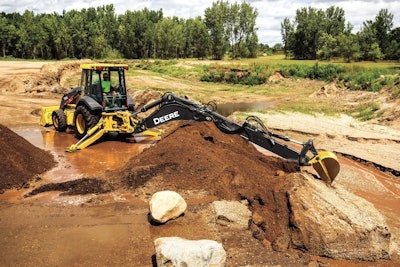 Deere says the machine is ideal for loading trucks, moving materials, placing pipe, digging trenches and breaking up concrete or asphalt.
Deere completes the 710L's powertrain with a PowerShift transmission. The 710L is capable of travel speeds up to 23 miles per hour. The machine also has a few features designed to make the operator's life a bit easier:
Sealed-switch module (SSM) provides 10 percent craning boost through Lift Mode.
Lift Mode sets engine rpm at 1,400 while maximizing hydraulic pressure for increase craning capability.
Pressure-compensated load sensing (PCLS) hydraulics
Ride control allows the front loader hydraulic cylinders to act as shock absorbers in rough terrain.
Economy mode saves fuel by limiting engine rpm in loader and backhoe operations while a variable-speed fan speeds up or slows down as necessary.
Like its L Series brethren, the 710L features features a cab with more legroom than its K Series predecessor, an improved seat design, redesigned pilot towers with fingertip controls and a new display. Auto engine shutdown and auto idle are programmable functions.
A new LED lighting package, Bluetooth audio and Siriux XM radio are available options.