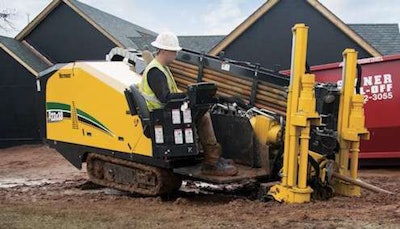 With the D23x30 S3, Vermeer is offering a sneak peek at features that will be incorporated throughout its S3 Series Navigator horizontal directional drill line, set to debut at the ICUEE trade show in Louisville, September 29-October 1.
"We've been working vigorously, getting the voice of the customer, discovering their problems," says Dave Wisniewski, vice president for underground solutions at Vermeer. The result, he says, is the company's new S3 drills—with the three Ss standing for speed, simplicity and sound.
The drills will offer increased tracking speed to allow quicker job-to-job transfers and feature a significant decrease in sound levels, reducing the impact of drill operations in neighborhoods and other noise sensitive areas. And continuing a current theme, S3 drills will have a commonality of controls, designed to help operators quickly become familiar with several sizes of machines, easing the learning curve.
The need for speed
"The two primary HDD drivers these days are gas distribution and telecommunications, and these jobs are very competitive," Wisniewski says. As a result, contractors are looking for drills that are more maneuverable and that get rod in and out of the ground quickly.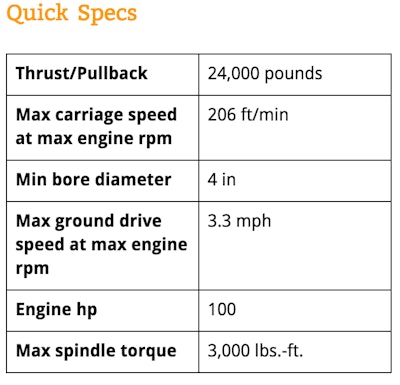 The speed portion of the S3 equation on the D23x30 drill is accomplished in part by a 206 feet- per-minute carriage speed and a rotational speed of 219 rpm.
"When drilling 500 feet a day, for example, that additional speed will allow you to save 15 minutes of change-out time over our previous machine," says Tod Michael, Vermeer underground product manager. The 24,000-pound thrust/pullback machine is powered by a 100-horsepower Deutz TCD 3.6L4 Tier 4-compliant engine and has 3,000 foot-pounds of rotational torque.
"The track drive also benefited from a new hydraulic circuit," Michael comments. Now Vermeer diverts flow from its rotation and thrust pump to run the track, rather than having a second pump drive the track drive circuit. "This allowed us to get up to 3.3 mph ground tracking speed, compared with 2.8 mph on the Series II machine," he says.
Lower sound levels
The D23x30 S3 is replacing the D20x22 Series II, and the new machine's sound levels offer a substantial leg up over its predecessor. Compared with the D20x22's guaranteed sound power level of 114 decibels, the D23x30 S3's level drops to 99 decibels. "Every 10 decibels you drop is half the volume, so we're talking a significant reduction," Michael says.
And since the operator ear rating has been reduced to 78.7 decibels, the operator no longer is required to use hearing protection. "Because of other jobsite noises, however, we're not suggesting operators get rid of hearing protection," Michael says, "but this does mean that jobsite communication will be easier."
Common controls
A common control system currently used on larger Navigator Series II drills is now on the D23x30 S3, including a digital display, improved onboard diagnostics and joystick controls. "You never have to take your hands off the joysticks while operating the drill functions, such as rod change out," Michael says. Contractors can also opt to use Vermeer's InSite Fleet remote monitoring system.
The new unit, now in production, can drill utility installations up to 6 inches in diameter. The machine's increased rotational torque allows operators to put product in tougher ground conditions with larger reamers, compared to the Series II machine it replaces, Michael says.
Just as with the lighter D20x22, the 14,300-pound D24x30 S3 can be transported with a mud system on a single 24,000-pound trailer.