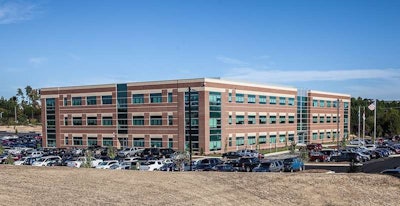 Downtime is a killer for fleets with very real bottom line consequences. Customer support specialists for Mack Trucks and Volvo Trucks North America calculate that a commerical vehicle downtime event today can cost a fleet as much as $2,000 a day per event. Obviously, mitigating or even avoiding costly downtime events is a high priority for fleets and the mission statement of Mack and Volvo's new Uptime Center in Greensboro, NC.
Mack and Volvo hosted North American Trucking journalists at a Grand Opening for the new facility Tuesday. Located adjacent to the Volvo/Mack corporate campus in Greensboro, the facility houses more than 150 highly trained product- and customer-support specialists who's sole mission is to leverage Mack and Volvo telematics technology to get trucks moving and keep them moving for customers all across North America.
According to Mack president Stephen Roy, the customer support specialists at the new UpTime Center take a "War Room" approach to proactively and consistently working downtime events in conjunction with fleet customers to minimize or even head off vehicle breakdowns.
Specialists in the center use key Volvo/Mack telematics technologies including Volvo ASIST and Remote Diagnostics, Mack OneCall, GuardDog Connect and Mack Fleet Management Systems to provide a balanced and comprehensive approach to identifying a problem, alerting the fleet, and then setting up an urgency timeframe for scheduling the repair as well as lining up necessary parts and a service bay at a nearby Mack or Volvo dealer.
Customer support specialists work each case individually for as long as it takes, keeping fleets informed on key aspects of the case until a resolution is reached. Fleets can set parameters to insure only the most pertinent data is used and transmitted to alleviate an information glut and allow clear, concise decision making in all phases of a repair event.
The UpTime Center features the latest in internet and communications technology to insure prompt customer support and has been designed to to expand and scale up as this technology both on the vehicles and on the support side evolve in the future.