The California Air Resources Board March 6 announced proposals to change elements of its Truck and Bus Rule emissions regulations that would mostly impact contractors with low-milage work trucks, very small fleets and owner-operators, though some elements could impact fleets.
CARB's rule required that all truck owners running in the state with pre-2007 model engines either by Jan. 1 replace their equipment with a 2007 or later model engine or install a particulate matter filter.
Changes to the regulations that will directly affect contractors are a redefinition of "low-mileage construction trucks" and extended compliance dates for those trucks.
Under the proposed update, low-mileage construction trucks are now referred to as "work trucks." These trucks travel less than 20,000 miles per year and owners were tasked with a compliance deadline schedule that required fleets with work trucks to have 33 percent of their fleet in compliance by January 1 2014, 66 percent by January 1 2015 and 100 percent by January 1, 2016.
The new schedule has been extended over the next four years and the full-compliance date is now 2018 as is shown below.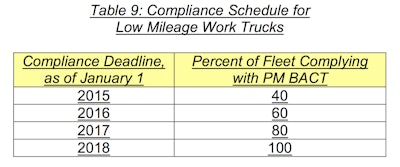 According to CARB, if the fleet owner meets the compliance schedule above for the entire fleet of heavier or lighter vehicles, except vehicles that are using the Low-Use Exemption, the remaining heavier or lighter low mileage work trucks in the fleet may be exempt from meeting compliance for that year. And any vehicle that meets compliance may be counted towards the schedule even if it is not a low mileage work truck.
Owners of a lighter or heavier low-mileage work truck must meet compliance by January 1, 2016.
Plus, an extension for properly labeling low-mileage work trucks has been added. By January 31, 2015, fleet owners of work trucks must affix or paint an identification label on all low-mileage work trucks and within thirty days after notification that any additional trucks have been approved as follows:
1. The letters WT or CT shall be white block lettering on a black background. Both letters shall be at least three inches high on a five by eight inch background.
2. The label shall be located on the left and right door of the vehicle and be in clear view at all times.
Beth White, CARB's manager, said other proposed changes include:
Delaying the filter retrofit deadline for trucks running exclusively in NOx exempt counties in the state (see the map to the right) until Jan. 1, 2015. These are areas where the amount of NOx in the air is below federal requirements and include counties of Alpine, Amador, Butte, Calaveras, Colusa, Del Norte, Eastern Kern, Glenn, Humbolt, Inyo, Lake, Lassen, Mariposa, Mendocina, Modoc, Mono, Monterey, Nevada, Northern Sonoma, Plumas, San Benito, San Luis Obispo, Santa Barbara, Santa Cruz, Shasta, Sierra, Siskiyou, Northern Sutter, portions of Eld Roado and Placer, Trinity, Tehama, Tuolumne and Yuba.
Allowing truck owners who were denied a loan to install a retrofit PM filter or for a compliant truck until 2018 if they make a commitment to replace the non-compliant truck with a truck with a 2010 or later engine by 2018. Truck owners would not have to install a filter, White says. This change would apply to owners with three trucks or fewer.
Changing the low-use exemption requirements to include trucks that travel 5,000 miles or fewer in a year, in addition to those who run 1,000 miles or fewer within California. The 5,000 miles would be total mileage on the truck for the year, not 5,000 miles within California borders, White says.
Allowing owners with three trucks or fewer an extended phase-in period for installing retrofit filters. Instead of requiring that the first truck be retrofitted by 2014, the second by 2015 and the third by 2016, the proposal would require the trucks be retrofitted by 2014, 2016 and 2018. One truck owners still were required to comply by the Jan. 1 deadline, but those with two trucks would not have to install a filter until Jan. 1, 2016, on the second truck.
Pushing back the date that truck owners must replace an older truck with one with a 2010 or later year model engine to 2023 (from 2020) if they installed a PM filter on a 2006 year model or older truck by Jan. 1, 2014. This applies to fleets of all sizes, White said.
Adding a provision that would not require truck owners with two or fewer trucks to replace more than 25 percent of their fleet, if non-compliant, in a year.
CARB is accepting public comment on the proposals until April 21, and then the board will meet the same day to discuss the changes and consider public comments before either voting to approve them or making changes and then having another 15-day comment period.
Click here to visit the CARB page where public comment can be submitted.
CARB previously implement its "good faith" efforts extension for owner-operators and small fleets (three trucks or fewer) in November, and it allows a delay in compliance with the regulations to July 1 if truck owners either (a) have an agreement with an authorized installer for a particulate matter filter retrofit, (b) have signed a purchase contract and ordered a replacement truck equipped with a particulate matter filter (engines must be 2007 or newer) or (c) have been approved or denied financing for a retrofit particulate matter filter or for a replacement truck equipped with a particulate matter filter.
To take advantage of the good faith efforts extension, truck owners can use the CARB TRUCRS system.
Editor's Note: James Jaillet is the News Editor for Equipment World sister sites CCJ and Overdrive.