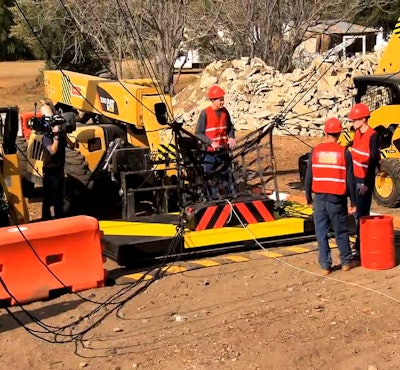 OK, I didn't hate it.
After you ignored the cringe-worthy title, the television show "Machines of Glory," which aired on Sunday, had its moments.
It did take time out from the equipment rodeo shenanigans to explain "this is an excavator, also called a track hoe," and go over some basic operating techniques and machine specs. And in its own way, it did honor the skills the three teams of operators brought to the table.
But I did have a problem with the anonymous presentation of the competitors – Tom G., etc. – instead of using their full names, and where they work. It's as if their skills sprung from nowhere, instead of being honed on everyday jobsites.
The three competitors I interviewed before and after the show – Tom Gardocki, Interstate Landscaping; Chris Guins, Guins Excavating Service and Justin West , Marion West and Son – have back stories that are familiar to anyone in construction. All three grew up in construction in family-owned firms, and have operated equipment since, as Justin puts it, "as soon as I could reach the pedals."
Tom talks about how great it is to be doing something new every day at his family's hardscaping firm. "You're outdoors, and even though it's the same type of job, you're constantly changing your scenery. It's very rewarding. You can drive by a house and see what you've done."
"I'd like to see this type of show draw more attention to our type of work," Chris says. "The general public doesn't know what we do, or what the names of the machines are, so hopefully this educated them a bit," adds Justin.
Although Tom, Justin and Chris would like to take their segment win to the next level, and face the winners from the two other episodes that aired, they recognize that the show has probably come and gone. Taping for the show was done in January of 2011 and there are no plans for a second run of episodes.
And so life goes on. When I talked to Tom last Saturday, he'd just finished plowing snow for 20 hours, and was set to go to plow another parking lot. Television fame is fleeting, and construction work is hard. It was a privilege to talk to three young men who had their heads on straight and love this industry.
Watch the "Launch Pad" competition from "Machines of Glory" below.
[youtube lGMstsuCBiE nolink]