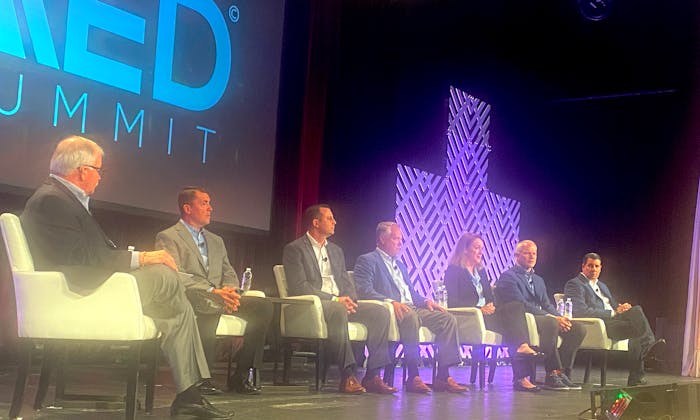 Equipment World
What does it take to be a successful dealer these days? A recent panel of major OEMs had varying answers, but several boiled it down to "be customer centric."
The six-member panel, held during the annual Summit of the Associated Equipment Distributors, included representatives from Cat, Deere, Komatsu, Vermeer, Volvo Construction Equipment and Doosan Bobcat.
"Really successful dealers look at the totality of their business and focus on what's important to customers," says Tim Tripas, senior vice president, construction equipment, Komatsu America.
"Everyone from the technicians to the salesforce to the leadership are all in on customer success," says Doug Hundt, president, industrial, Vermeer. "They are centered around uptime and they continue to build their business with a spirit of continuous improvement. They're managing for the customer's best interest, which in turn will come back to them in their bottom line."
"I really want to watch how dealers interact with customers and employees because that tells me a lot about the culture of the dealership," says Mike Ballweber, president, Doosan Bobcat North America.
"It's really about the easy button," says Kristin Girard, distribution director, West and Canada for Caterpillar. "It's about the customer experience."
Vision, culture
Other things are part of the successful dealer mix.
"When you first sit down with a dealer and they lead with vision, you know that's a core part of what they're doing," Ballweber says. "We're looking for alignment with our vision of what we stand for as a company and as a manufacturer. Do they have a vision for what the future looks like and how they want to act and perform?"
Stephen Roy, president, Volvo Construction Equipment North America, agrees. "It's really the engagement of the employees on the dealer's vision and mission," he says. "They live and breathe it, they all have the same language and they are excited about what the dealer is trying to do. You can see that difference in culture when you go from one dealer to the next."
"The dealers that have the best culture and are the most successful are the ones who are trying to be proactive and innovative and looking at new technology," Girard says. "They are really trying to recreate themselves on a regular basis."
Life after Covid
The panelists seemed to agree that dealers adjusted well as they surfed the significant waves of a global pandemic.
"There are dealers who have found a way this past year to innovate differently than ever before," says Jason Daly, global director, production systems and technology, John Deere Construction and Forestry.
"We were amazed at how quickly everyone pivoted," adds Tripas. "One of our takeaways was that our customers and dealers wanted to see us."
Technology ahead
This agility will continue to be demanded as dealers face the twin tsunamis of technology and environmental concerns, panelists say.
First a word of warning: dealers must learn to become adept at helping their customers to get the full value of telematics.
"The telematics train is moving," says Vermeer's Hundt. "It's not too late if you're not on it, but it's moving."
"Too often whether its digital transformation or telematics we see people jumping in and trying to everything at once," says Komatsu's Tripas. "We've seen our dealers become successful with telematics when they picked one or two things and figured out how to measure it and why it was important to their customers."
"I feel like three or four years ago the dynamic changed, where it went from a resistance to technology to recognition that the speed of innovation isn't going to go away anytime soon," Ballweber says.
Panelists also pointed out that manufacturer R&D has accelerated now that the hurdle of reaching Tier 4 Final engine emissions regulations is now in the rearview mirror.
"The fact that we have more R & D resources is an important piece because it's going to happen very quickly that technology can come on to the machines," Cat's Girard says.
One likely scenario is teleoperation of machines, says Daly. For instance, an operator who's dealing with rain delays in New Jersey could find work in Las Vegas, where the skies are still sunny. Using remote controls connected to the Vegas machine, he could still get in his hours.
Diesel alternatives
Much of this technology push will focus on exploring alternatives to diesel power, particularly electric and hydrogen fuel cell-powered machines. "In five years, you'll see some form of hydrogen fuel cells on larger machines and you will begin to see a ton of autonomous machines on restricted jobsites where it can be controlled," says Volvo's Roy.
"And it's not just about CO2," Roy continues, pointing out that these alternative-powered machines have dramatic reductions in noise compared to their diesel counterparts. "All of the sudden, these machines can work later and there's less fatigue on the operator. From a productivity standpoint, they can work longer hours, especially in cities."
"Your customers are going to be asking you about your carbon footprint and electrification is truly here to stay," Daly says. Contractors will be dealing with ESG goals (Environmental, Social, and Governance) on jobs, he adds.
"There are many opportunities to engage with your customers on this because that's the next margin opportunity in the future," Daly adds.
Is Amazon looming?
"Digital transformation is happening, and is being lead by the experience customers are having with Amazon, auto dealers and grocery stores," Tripas says. "They're going to come look to us with those expectations as well."
"If you're simply there to sell a given product you're likely going to be marginalized for the next competitor down the street," Deere's Daly warns. "But if you can provide some value-added service it improves your margin. They might look to Amazon for a part but ultimately you can provide solutions over time to keep them with you as you digitize your business to enable customers to buy the way they want to buy."
At the end of the day it's not a sales game, Hundt says. "It's about providing an application expertise and knowing their job better than they know it and their company as well as they know it," he says.
"More important, we're showing that customer how to make more money and how to be more profitable," Hundt continues. "They can't find the labor so they are really relying on dealers to provide that expertise. You're providing uptime, the right part and the right service and the right knowledge. It's a tremendous opportunity for dealers to be the locked-in uptime provider for customers because of the sophistication this equipment is going to demand.
Hundt sums up: "Those are the things that Amazon probably will never be able to bring. They won't take that call at 10 p.m."