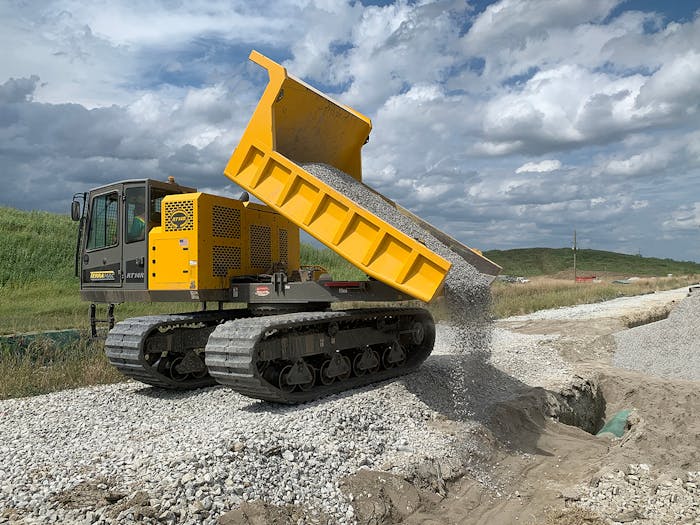 Terramac
Terramac has named Rish Equipment, Alta Equipment and Romco Equipment to its dealer network.
Rish will represent Terramac in 11 branch locations in Virginia and West Virginia. Alta's territory will include Vermont, Connecticut and New York, and Romco will represent the company in south Texas.
Each dealer will offer Terramac's full line of straight frame and 360-degree rotating crawler carriers to serve a variety of industries, including utility, environmental, mining, pipeline and general construction. Also available will be Terramac's three standard options: conversion beds, rock dump beds and flatbeds. Customized units also support attachments such as digger derricks, aerial lifts, hydroseeding units, personnel carriers and service cranes.
"Terramac is a natural fit with the current equipment offerings of these dealerships." says Matt Slater, Terramac's vice president of business development. "Adding Terramac's versatile product line will not only allow Rish, Alta and Romco to further support their existing customers, but it will also provide an opportunity to expand into other markets."
Takeuchi names Smith top dealer salesperson

Takeuchi-US
Bill Smith of Cobb County Tractor is Takeuchi's top dealer salesperson for 2020, the fourth time he's taken top salesperson honors.
Steve DePriest, Southeast regional business manager for Takeuchi, says Smith is "a consummate professional who focuses on listening to his customers and helping them find just the right solution for their unique needs and situations."
Titan Machinery sees 26% increase in Q1 equipment sales
Titan Machinery says it saw a 26% increase in equipment sales and a 10% increase in its combined parts and service business compared to the first quarter in 2020.
The company's agriculture segment saw a pre-tax income growth of 82% and its construction segment "generated solid top-line growth," says David Meyer, Titan Machinery chairman and CEO.
Equipment sales were $276 million in Q1 compared with $218.5 million last year; parts sales were $62.6 million compared with 56.6 million last year.
For the company's construction segment, Q1 revenue was $68.6 million compared to $60.1 million for the same period last year. Increased equipment sales were partially offset by lower rental income, says the company.
The company previously said it expected its construction segment to be down 0% to 5% this fiscal year; it has now adjusted that upward to an increase of 2% to 7%.
MANUFACTURER NEWS
Deutz Power adds two sales managers
Mike Winkler and Loewen Payne have joined Deutz Power Centers as new engine sales managers. Winkler will work from the new Deutz Power Center Mid-America location in Mansfield, Texas, and be responsible for leading new engine sales efforts from the Dallas area to Houston, Midland-Odessa and across the South Central U.S.
Payne will be stationed at the company's Great Lakes center in Elgin, Illinois, selling engines in East Central Illinois and Northern Indiana as well as Wisconsin and the Upper Peninsula of Michigan.