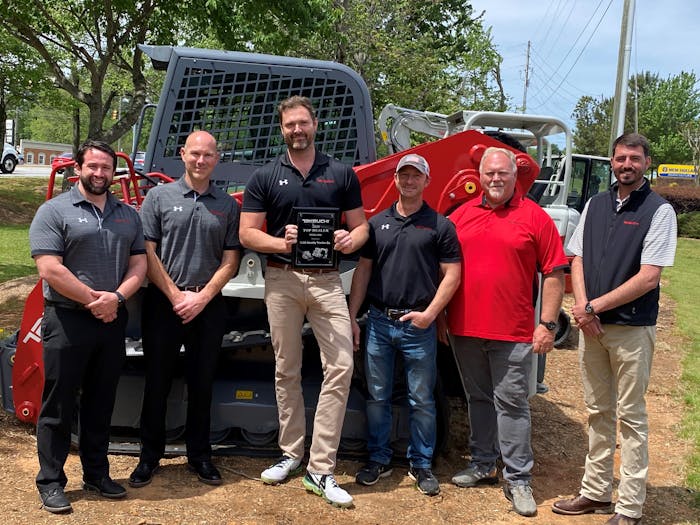 Takeuchi-US
Takeuchi-US has honored Cobb County Tractor of Marietta, Georgia, for achieving the highest 2020 sales volume of all North American Takeuchi dealers.
A full-line Takeuchi dealer, Cobb County Tractor and its Perimeter Takeuchi division serve the consumer, construction, landscape and agricultural markets in the Metro Atlanta area. Established in 1955, the firm sells new and used equipment and provides parts, service and rentals.
"The owners and staff at Cobb County Tractor have an innate understanding of what their customers need to be productive and efficient," says Steve DePriest, Southeast regional business manager for Takeuchi. "They combine that expertise with extensive product knowledge to direct customers to the Takeuchi machines that will help them achieve their goals – and their results speak for themselves."
Chadwick-BaRoss takes on Atlas line
Chadwick-BaRoss will now offer Atlas material handlers in North America.
The Atlas line, offered by SMH Group, includes mobile industrial and industrial tracked machines for scrap metal, recyclables, port and vacuum operations.
Chadwick-BaRoss, a Volvo Construction Equipment dealer, has six locations in Maine, New Hampshire, Vermont, Massachusetts, Connecticut and Rhode Island. It also represents Takeuchi, Prinoth, Bell, Sany and Link-Belt, among others.
Powerscreen Michiana adds Terex Ecotec
Powerscreen Michiana has added the Terex Ecotec line, representing them in Michigan.
The company will offer Terex Ecotec's shredders, trommel screens, recycling screens, metal separators and conveyors. Established in 1985 , the company changed its name from Powerscreen of Indiana this year when it added the state of Michigan to its territory. It is headquartered in Angola, Indiana.
MANUFACTURER NEWS
CNH Reman extends Breizelec partnership

CNH Industrial Reman
Extending a previous European partnership, CNH Industrial Reman and Breizelec will offer a broader catalog of CNH-branded Breizelec-remanufactured electronic parts to North American dealers and end users.
"Many of the parts Breizelec is able to repair are no longer available as new parts," says Travis Stewart, product manager for fuel injection and electronics at CNH Industrial Reman. "This partnership allows CNH Industrial Reman the opportunity to get back into supporting those machines where new or reman parts are no longer an option."
The result will be lower-cost electronic part options that have an 18-month warranty that begins when the part is shipped to the dealer, CNH says.
Breizelec currently stocks a large selection of remanufactured electronic components at their Montreal distribution center. Most parts deliver witin 24 to 48 hours. CNH dealers will also have the option to send a failed electronic unit in for repair, a process that typically takes two weeks.
Terex Cranes adds to sales team
Saying that it's "renewing its focus in North America," Terex Cranes has added Jonathan Caldwell as its tower cranes sales representative and Michael Goll as business development manager for rough terrain cranes.
Caldwell is charged with building and sustaining effective relationships with North American distributors. He previously was an application engineer at AmQuip Crane Rentals and is a two-time recipient of the Terex Continuing Education Scholarship.
Working in partnership with dealers, Goll will be responsible for directing the North American sales strategy for both Terex rough terrain cranes and Franna pick and carry cranes. With more than 20 years business development experience, he most recently worked for Wiggins Lift.