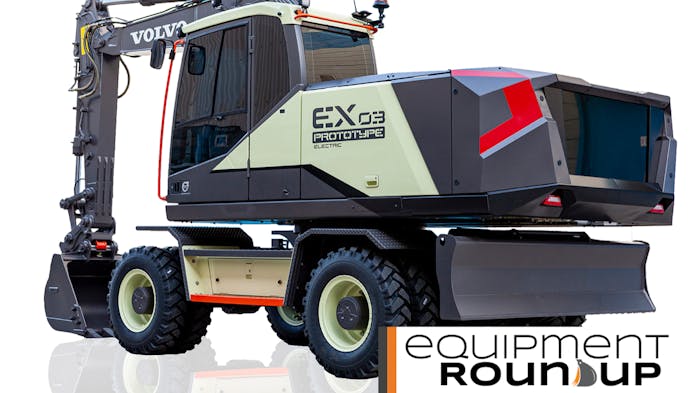 This is the Equipment Roundup
Every week we collect the top construction equipment headlines you need to know about in one spot.
Video: Volvo's Excavator Prototypes Show That It's No Newcomer to Electric Development
Volvo Construction Equipment has introduced two new battery-electric excavator machines with distinct differences. First, the 14-ton EX03 wheeled excavator is what Volvo calls a concept machine -- meaning that what Volvo is sharing right now is basically a 3D rendering instead of a fashioned-in-iron prototype. For now, the company is putting the idea out there to solicit feedback.
The conversation-starter on the EX03 concept is the giant screen on the back. We're going to stop there and have you get additional details by clicking on the link below.
Volvo also revealed details about an electric machine that's a little further along in design: the prototype EC230 crawler excavator. It's now in customer testing and is well on its way to being released commercially, although North America might not be first on the list.
To see the details on these new machines, plus get a deep dive into Volvo's electrification efforts, click here.
Whatever you call them, these machines are becoming popular jobsite options
Compact utility loaders -- or what many people term "mini skid steers" -- are gaining rated operating capacity and performance heft along with attachment versatility.
In fact, in many cases, the stand-on units are rivaling smaller skid steers and compact track loaders in operating specs, while offering a smaller footprint, better visibility and ease of getting on and off.
Delve into what's on the market today by clicking here.
Autonomous machines advance: What two companies are doing
Volvo Construction Equipment and EquipmentShare have made separate autonomous construction machine announcements.
Volvo CE says it will now devote a significant portion of its Customer Center in Sweden to test and demonstrate autonomous machines.
Rental and equipment provider EquipmentShare is funding an autonomous internship at its headquarters in Columbia, Missouri.
Read the details here.
Haul roadbuilding equipment with Fontaine's Workhorse trailer
Fontaine's 55-ton-capacity Workhorse 55PVR trailer is geared toward roadbuilding contractors, allowing easier loading of paving equipment and excavators.
The trailer has a 9-degree front ramp at the deck and 16-degree deck-to-bogie transition ramps. Milling machines, pavers and compactors can all be easily loaded.
For further information, click here.
Engcon increases EC226 tiltrotator heft
Engcon's EC226 tiltrotator now comes with an 8-ton lifting hook, giving it an additional 3 tons over its previous model.
Designed for excavators weighing 19 to 26 tons, the EC226 is Engcon's second-largest tiltrotator.
Read the details here.