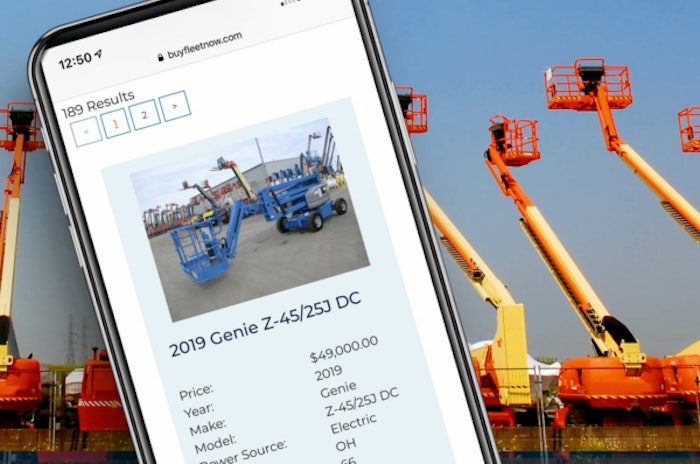 Designed as a "faster, cheaper way to simplify fleet and inventory management," IronTek Solutions says its mobile app and website pairs traditional equipment services with software created to steamline day-to-day activities.
"Our platform allows fleet managers and owners to quickly identify which machines make the most sense to sell, create a hotlist that can be distributed to their internal team and advertise them in our marketplace," says founder and CEO Carly Cahlik, who is also co-owner and managing member of OHR Rents (formerly Ohio High Reach).
IronTek's Fleet Up fleet management tool imports rental data from existing rental software and provides users with custom fields specific to equipment sales. Users can control access to which personnel see which information, says Cahlik.
A fleet manager, for example, may be able to view a machine's class utilization, orderly liquidation value, year-to-date rental revenue, repairs and book value. Outside sales reps, on the other hand, will be able to view select information—such as book value, sales price and on/off rent status—specific to their responsibilities. And users can set which equipment will be seen in which geographic region.
In addition, IronTek's messaging system allows users to communicate in real time and leave notes on machines, Cahlik says. Options are sortable, so those working in the field can quickly drill down to see which machines will fit customer needs. Users can message to others in their organization. "Messages appear in your inbox so there is no need to change your daily routine," she says.
Cahlik says most rental software is compatible with Fleet Up, including Point of Rental, Alert EasyPro, InTempo and RMI's Advantage 365.
Fleet owners can upload hundreds of machines in minutes manage inspection reports and photos and assign company roles, says the company. "Photos and inspection reports are key to this process, and we have an effective way that lets sellers manage that media," Cahlik says.
The platform is designed to "work in conjunction with what our customers are already doing and helps them work more efficiently and reach a broader audience," Cahlik says. "Our equipment search focuses on the most relevant search results, not on who is paying the most for their ads or displaying search results with messy, confusing ads for listings."
The IronTek platform can link to a user's website, thus making it available to other sales outlets a dealer or rental operation uses. "If you update the photos in one place, we'll make sure it gets across all your platforms, and really take the hassle out of it for you," Cahlik says.
In addition, IronTek can assist with traditional equipment services, such as finding potential buyers, helping price equipment and fleet disposal to "sell our client's assets in the timeframe they need, at at price above auction," Cahlik says. The company is also offering mobile-friendly website design services.
While it's offering Fleet Up now, IronTek plans to officially launch it at the ARA Show in February.