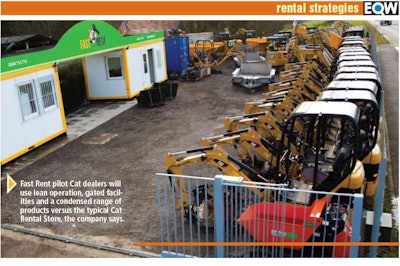 Fast Rent, a Caterpillar corporate rental initiative, may be piloted by three or more North American Cat dealers in the coming months.
Initially developed by Cat's Swiss dealer, Avesco, the Fast Rent platform has been tested in three European markets since 2014. "It was created to address the needs of small businesses," says Andy Grover, global rental and used digital products manager.
Using either a website or the Fast Rent mobile app, customers can access real-time inventory along with dynamic pricing. "There's no need to request a quote," Grover says. "Customers can complete the transaction, including using credit card or another online payment option, and schedule transport. In a matter of minutes, they can complete the entire transaction, which might have taken them 30 minutes to an hour before. Everything's electronic: signatures, payments, inspection process and equipment condition documentation."
And for the first time, dynamic rental rates are published online. "Just as you do when you buy an airline ticket, the rates change according to time, weather and demand," explains Pierre-Alain Masson, global rental and used marketing development department head. "That means that a contractor who wants a mini-excavator on Monday can order it on Friday night and know exactly what it's going to cost him."
Along with the mobile app experience, Fast Rent pilot Cat dealers will use lean operation, gated facilities, and a condensed range of products versus the typical Cat Rental Store, according to Grover. These facilities, with standard hours of operations, will be supported by an operation manager, salesman and mechanic/transport driver.
"We're quite confident that the price-value proposition and service offering will be attractive to customers," Masson says. Masson sees it as a complementary offering to established rental store relationships. "There's a segment of the industry that knows exactly the configuration and products they want, and they want a simple, fast, friction-less experience, and that's what they are getting with Fast Rent."
Expanded digital offerings
Fast Rent is part of an overall Cat Rental Store digital initiative, which has included a revised platform for catrentalstore.com and the introduction of a mobile app in the past year (iOS, Android). "Along with simplicity, customers want more access to data, and they want to understand how they are managing their entire fleet, whether rental machines or their own assets," Masson says.
A segment of the Cat dealer network is using a log-in function in which customers can access their accounts through the website or by mobile app and view invoices, equipment on rent, and perform such tasks as taking equipment off rent.
The Cat Rental Store mobile app, available for download for Apple and Android phones, allows users to identify available rental equipment, view current equipment on rent, browse pricing information and review active and past rental details. Users can also set preferences on how they want to be notified about equipment rental status changes, including by email, text and push notifications. In addition, they can review and accept quotes in real time.
These initiatives are intended to address the various ways contractors prefer to rent, whether it's an owner-operator, jobsite superintendent, equipment manager or an in-office procurement manager, Grover says. A rental decision may involve one person or several people in a transactional chain.
"Our dealers have led the way on these initiatives and are sharing best practices in an ongoing process," says Steve Brown, global rental marketing and operations manager. "There's no one that knows the customer better, and they understand the market. Our role is to consolidate and communicate these efforts. When we do that, we find our dealer entrepreneurs deploy them effectively and quickly."