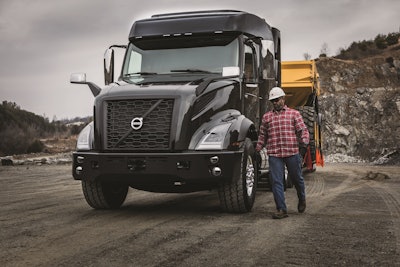 Hamm brings hybrid drive asphalt compaction to N. America with new HD+ 90i PH tandem roller
Hamm's new PH hybrid powertrain system for tandem asphalt compactors debuted earlier this month in Houston at World of Asphalt 2018, billed as a new concept that will save owners fuel, costs and maintenance.
Hamm introduced the hybrid powertrain system in the HD+ 90i PH tandem roller.
Expected to be available this year, the hybrid system underwent field trials in selected markets during 2016 and 2017 and is expected to be available in North America with double vibration (VV) and vibration-oscillation (VO), as well as the smooth drum-pneumatic "combi" rollers (VT) as options.
The hybrid solutions combine two power technologies: By combining an internal combustion engine with a hydraulic system, Hamm says it's the first roller manufacturer to develop a technical solution suitable for series production.
To read more, click here.
---
ASV unveils RS-75, VS-75 skid steers with best-in-class ground clearance
ASV designed its new large-frame RS-75 and VS-75 with a ground clearance of 10.5 inches, which is more than 2 inches higher than other machines in their class, the company says.
The higher ground clearance makes it easier to traverse obstacles like rocks and stumps without getting stuck. Both skid steers, the company's largest, also feature a 24-degree departure angle for climbing steep hills. The company says it achieved this by designing the frames independently for the radial lift RS-75 and the vertical lift VS-75, the same process it follows for all its skid steers.
The VS-75 has a rated operating capacity of 3,500 pounds and a tipping load of 7,000 pounds. The RS-75's rated operating capacity is 2,600 pounds with a 5,200-pound tipping load. They are designed for rental, construction, landscaping, snow-removal and forestry applications.
To read more, click here.
---
Volvo intros CR30B, CR35B combination rollers to small compaction line
Volvo Construction Equipment has expanded its small compaction line with the CR30B and CR35B combination rollers, which were introduced at World of Asphalt 2018.
Built on the proven platform of preceding models, these versatile, next-generation machines can be used in a variety of applications including driveways, small paths, patchworks or road shoulders, according to Product Manager Mark Eckert.
The CR30B and CR35B deliver a dense, high-quality mat surface thanks to the combination of two compaction methods, he says, pointing to the front drum and rear tires of the CR30B on display at World of Asphalt.
To read more, click here.
---
Volvo CE intros EWR150E, EWR170E and EW220E wheeled excavators
The latest wheeled excavators from Volvo Construction Equipment were introduced earlier this month at World of Asphalt: the short swing EWR150E and EWR170E, and the conventional swing EW220E.
"Wheeled excavators are underutilized in North America, and contractors are missing out on the benefits they bring, especially in applications like road building and in urban utility work," says Matt McLean, product manager, wheeled excavators at Volvo CE.
"They can travel on their own up to 22 mph from site to site, even towing a trailer, rather than being loaded on a lowboy. Wheeled machines also have lighter footprints and don't damage hard surfaces like their tracked counterparts. That equates to less cleanup and lower labor costs. We really see these wheeled machines as an opportunity for contractors to rethink the way they're building their fleets."
To read more, click here.
---
Volvo unveils new VNX Series trucks designed for heaviest of heavy-haul duties
Low, gray skies. Snow on mountains. Flurries dancing through the icy air—it was a backdrop made to order for the launch of Volvo's redesigned VNX heavy-haul truck line. But the gloomy Nordic weather, wasn't in Sweden (Volvo's home base), but Dublin, Virginia, where the company has its assembly plant and North American customer center.
The man-against-the-elements tone of that chilly morning only highlighted what these trucks are designed for. With their big engines, rugged transmissions and beefy frames, the new VNX Series are made to haul things like construction machines, quarried granite, B- and C-trains hauling logs and gravel, and heavy tankers.
Hammer down the accelerator pedal on one of these spec'd-to-the-max VNX trucks and you can tap into 605 horsepower and 2,050 lb.-ft. of torque to pull 225,000 pounds. If these trucks can't haul it, your next choice is a locomotive.
"There are no typical applications in the heavy-haul market," says Chris Stadler, product marketing manager. Accordingly, Volvo designed three cab configurations that can take you across town or across a continent. The cabs include:
The VNX 300, a simple daycab for local heavy haul.
The VNX 400, a sleeper with a flat roof and 42 inches of space behind the seats for occasional overnights or when you run out of drive time on your hours of service.
The VNX 470, designed for customers pulling heavy-haul, cross country duty and has all storage, amenities and comfort 70-inch sleeper including refrigeration, microwave and TV.
To read more, click here.