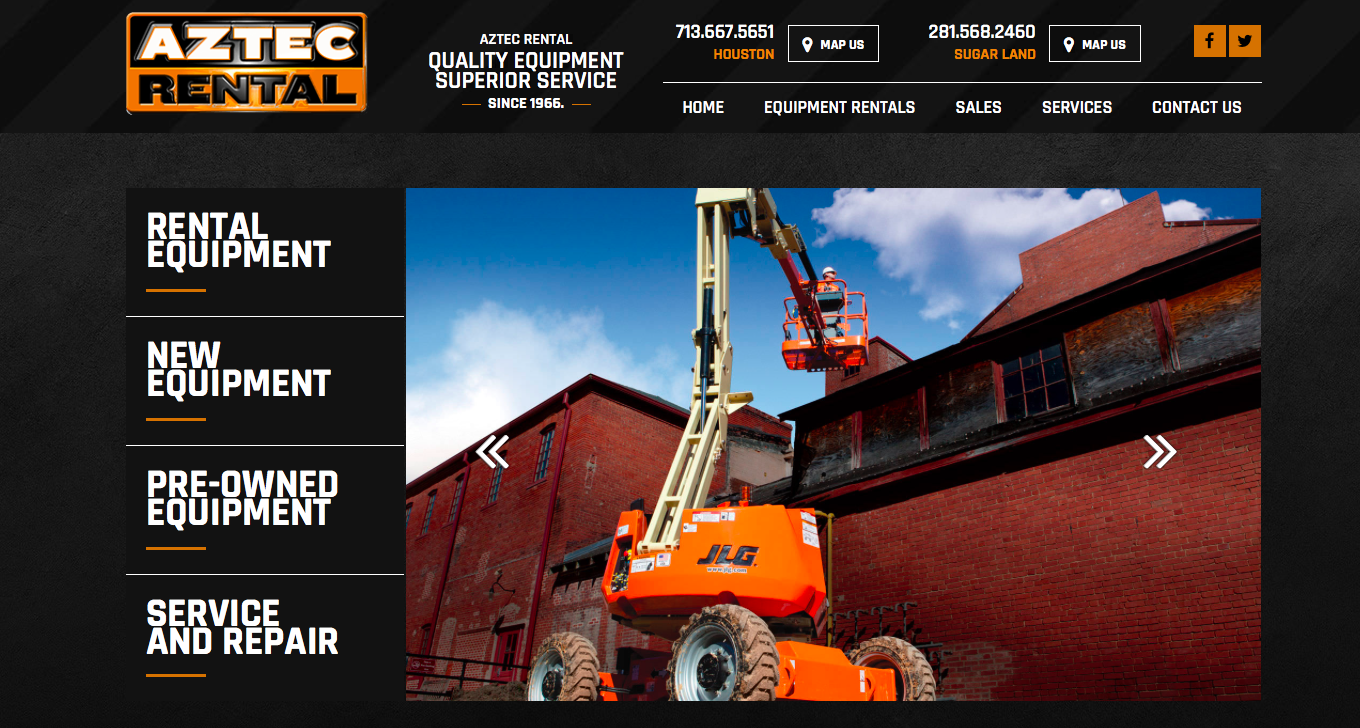 Houston, Texas-based Aztec Rental has partnered with Dealer Spike Heavy Equipment to revamp its website to make it more mobile-friendly, a lacking feature they felt could potentially cost them business.
"Guys out in the field are in the middle of a job, and they don't have a desktop computer in front of them," says Gary Sorsby, one of three company managers, referencing his customers. "They're using their phones."
Because of the design change to the website, Sorsby says the dealership has seen a "substantial increase" in leads and sales. "Overall, the design of the site is cleaner and easier to navigate. The functionality is way more user-friendly," he explains. "We've also seen an increase in results from our website's SEO (search engine optimization)."
Sorsby estimates leads have increased 400-500% with the new website compared to the previous one, and is confident in that estimate without even knowing what the leads were on the old site, as they were not tracked by the previous provider.
"In a lot of cases, people are renting equipment for the first time. They know what job they need to get done, but they don't know how to do it," he explains. "The website gives them a chance to look at our equipment, watch demos, and shop around to see what they need before they come in."
The customer, Sorsby says, gets a basic level of education about the equipment, and this results in a faster turnaround with purchases. He and the rest of the team get a lot of positive feedback from customers about the website, he adds, with the customers reporting they are happy to be able to sit at home and shop through Aztec Rental's inventory before coming into the store.
"We're honored to partner in digital marketing with the Aztec Rental team," says Jay Mason, CEO of Dealer Spike. "As both a hugely successful name and a reputable business in the equipment industry, we are flattered to have been chosen for the job."
Aztec also recently celebrated 50 years in business. Sorsby is the grandson of the original owner, Lester Sorsby. So are the two other managers, Eric Nedd, and Brian Nedd. To mark the anniversary, the company held events at its two Houston-area locations with food, drinks and giveaways and prizes for attendees.