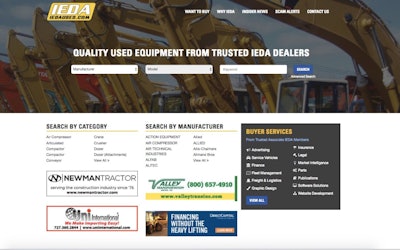 The Independent Equipment Dealers Association (IEDA) used ConExpo 2017 as the backdrop for launching the redesign of IEDAUsed.com, with the update focusing on a "Want to Buy" feature and improved inventory information sharing.
"IEDAUsed.com is designed to help contractors find what they are looking for and provide the assurance they are working with legitimate sellers that have their customers' best interests in mind," says IEDA Executive Director Kristen Williams. "All of our members are carefully vetted before being granted membership, and they have agreed to uphold the highest standards set by IEDA's membership board."
The association reports the site includes equipment inventory of more than 130 of its members across the globe, with buyers being able to search by location, manufacturer and equipment category. The "Want to Buy" feature gives site visitors the ability to detail the exact equipment they are trying to find, with participating IEDA members looking to match the request.
The site also includes a list of associate members that offer "related services," such as financing, parts, software, legal advice and marketing support.
IEDA says it backs all the equipment listed on IEDAUsed.com and "honors all commitments and guarantees and seeks to resolve any disputes in a fair and expedient manner."