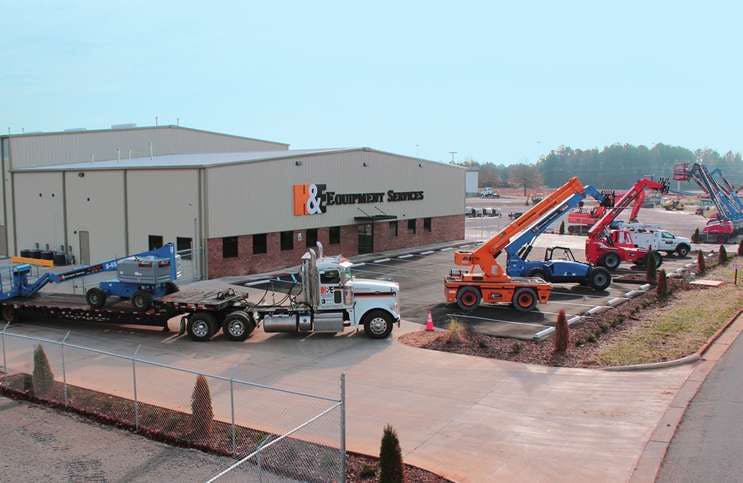 Baton Rouge, Louisiana-based H&E Equipment Services, which operates 78 construction equipment dealerships across the country, reports a 5.9 percent drop in total revenue for 2016, to $978.1 million.
For the fourth quarter, the company reports a 10.6 percent decrease compared to the same period in 2015, to $244.3 million.
"2016 was a solid year for our company and industry as the strength in the non-residential construction markets continued into the fourth quarter," says CEO John Engquist. "Demand for rental equipment was healthy, with both revenues and margins up slightly from a year ago. Ongoing weakness in crane demand continued to negatively affect our distribution business, with new and used crane sales down $23.0 million on a combined basis."
The bright spots were equipment rental revenues and services revenues. Rental revenues increased slightly for the year, reaching $445.2 million, compared to $443.0 million in 2015. Services revenues reached $64.7 million, and increase of 1.1 percent. New equipment sales dropped 17.4 percent to $196.7 million and used equipment sales slid 18.1 percent to $96.9 million. Parts sales dropped minimally to $109.1 million.
For the full year, gross profit dropped 2.9 percent to $335.6 million, while gross margin ticked up a bit to 34.2 percent, compared to 33.2 percent in 2015.
Gross margin on rentals was relatively flat at 47.4 percent—also the case with new equipment sales at 10.7 percent, used equipment sales at 31.1 percent and service revenues at 66.2 percent. Parts sales gross margin increased from 27.3 percent to 27.7 percent
"We are extremely encouraged about the trends and opportunities for our business in 2017 and beyond," Engquist adds. "Customer sentiment was positive prior to the election but it has improved further post-election according to many metrics. While substantial uncertainty exists regarding the new administration's proposed infrastructure stimulus plan in terms of total funding, project mix and timing, a material spend could fuel solid industry growth and extend the cycle for years. While it is unlikely the industry would benefit from any infrastructure spending until 2018 at the earliest, we do believe the new administration's pro-business position could accelerate construction spending in 2017. The energy markets are also improving as shale drillers in the Permian and Eagle Ford Basins are ramping up exploration activity as they expect to generate positive returns at current oil prices. For the first time since 2014, we opportunistically moved fleet back into select energy focused markets during the fourth quarter."