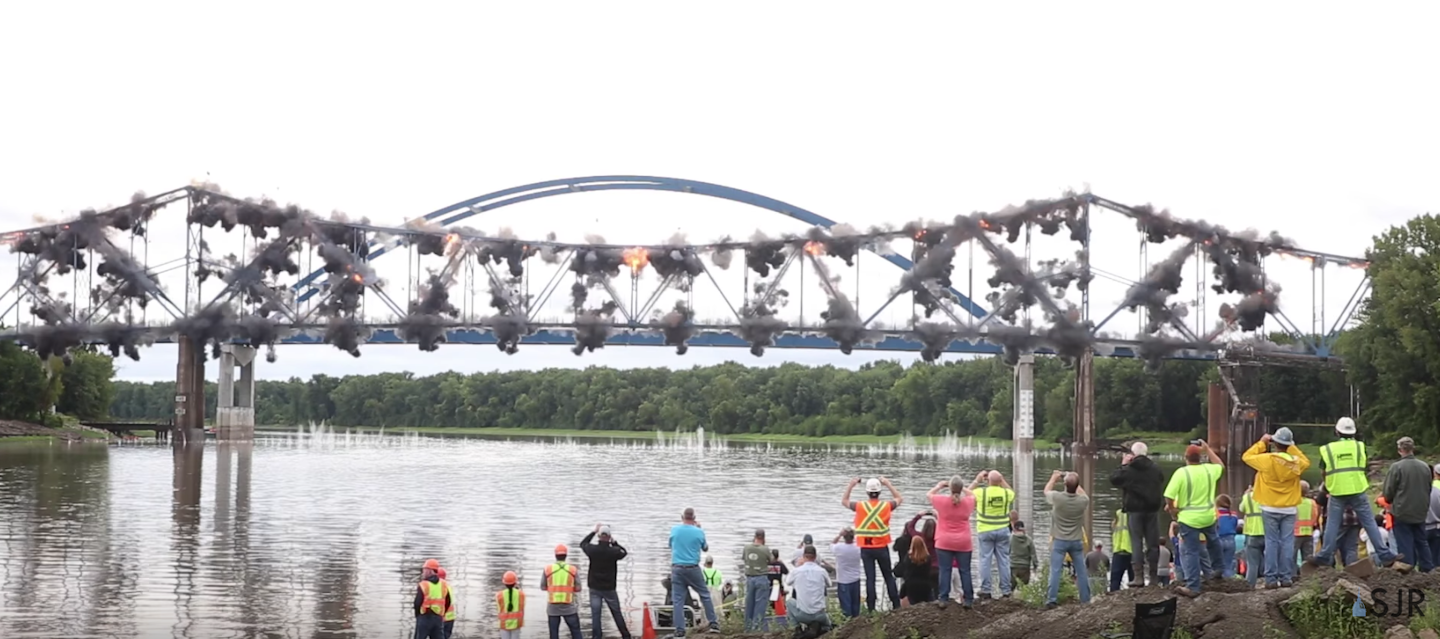 The YouTube video below by Rich Saal shows the demolition of the 82-year-old Illinois 104 bridge at Meredosia that took place August 29, 2018, according the State Journal-Register. The implosion broke the bridge into manageable sections of structural steel and dropped them into the Illinois River below.
"It pretty much looks just like they drew it up on paper," said John Sestak, a construction field engineer for the Illinois Department of Transportation, according to the news agency. "A structural engineer analyzed where the cuts should be based on how much weight the cranes are capable of picking up out of the water. Then they placed the charges accordingly."
But blowing up the bridge and dropping the pieces into the river was only half the job, now the pieces have to be recovered.
"We pull in barges, hook onto the sections, pull them out one at a time, and load them onto other barges to get it out of the river," said Scott Halverson of Halverson Construction, the general contractor for the bridge project, the news agency reports. "Then we'll do a sonar on the river to make sure all of the metal is out of it, and if not we go down and get it. Then we open the river back up. It's one of the last major hurdles so this is a big day for us. We've been working at this project a long time."
The new bridge was built 250 feet north of the old bridge and includes nine concrete piers, a 118-foot-tall central arch and two traffic lanes with wide shoulders on either side to accommodate slow-moving agricultural vehicles. The entire bridge, including approaches on both sides, is 2,127 feet long and 44 feet wide and features a river navigation path 590 feet wide and 55 feet tall to accommodate barges and tow boats. Construction began in April 2015 and opened to traffic in June 2018.